Do cloud and document management co-exist? Many companies are finding ways to improve productivity by using cloud. It's not hard to understand what people mean when they put the words "document" and "management" together. As a term, its self-explanatory. But if you put the word "cloud" anywhere near it, things start to get a little more hazy.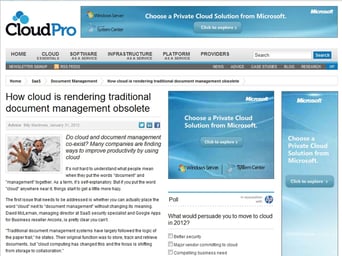 The first issue that needs to be addressed is whether you can actually place the word "cloud" next to "document management without changing its meaning. David McLeman, managing director at SaaS security specialist and Google Apps for Business reseller Ancoris, is pretty clear you can't.
"Traditional document management systems have largely followed the logic of the paper trail," he states. Their original function was to store, track and retrieve documents, but "cloud computing has changed this and the focus is shifting from storage to collaboration.
"Products like Google Apps for Business enable real-time collaboration in multiple ways and provide tools which support team working, but they also mean documents can end up being organised in websites or shared across project teams.
From McLeman's point of view, there are a number of benefits in using Google Docs. It removes the need for version control, makes a single copy of a document simultaneously accessible by authorised contributors and can "turn static data into dynamic content to drive the business forward and bring innovation."
But this also means that managing content in the cloud "goes a lot further than simply storing and tracking documents."