Since the early 1980s, office tools – such as word processors and spreadsheets – have helped us gradually remove paper from the office. However, we've continued to use processes based on that old paper trail. We create a draft. We send copies to colleagues by email for review. Our colleagues provide their input and we then have to collate all that feedback from various copies to create the next draft.
The work cycle in the 1980's: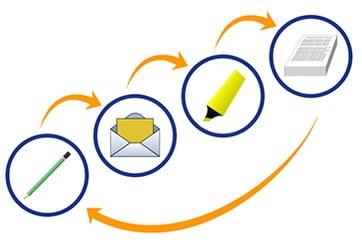 Features like the ability to track and accept changes might make us a little faster and improve our personal productivity. But using processes designed for a paper-based world makes it hard for us to move quickly as a team, to build consensus and to drive decisions.
The tools have changed but the process has not: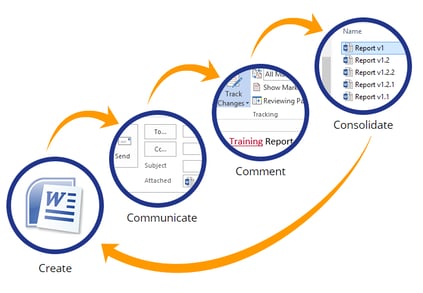 The latest generation of cloud-based digital technologies, such as Google Workspace, are allowing us to reshape our processes and create a digital workplace that significantly improves collaboration and productivity across teams.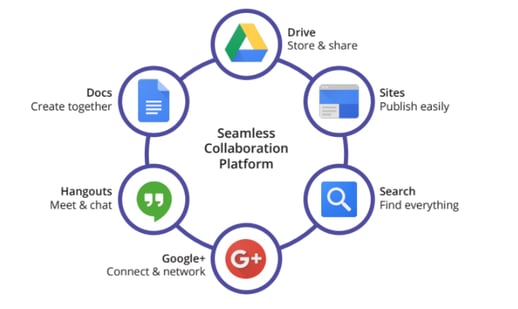 Creating a digital workplace
With tools like Google Workspace:
Your whole team has access to the same document at once, whether they're at the desk opposite or halfway around the world. No need to email copies to different people, spend time collating everyone's input into one file, or keep track of multiple versions. With shared Team Drives, you also know everyone is always looking at "the latest" version – because there is only one version.
You can see suggestions in real time, as colleagues type them. That makes it much faster and easier to provide feedback agree the right words in minutes rather than days of back and forth.
You can brainstorm in the moment, simply by adding comments in a document. Or you can use a virtual whiteboard for a more formal session that pulls together documents and resources from within your company and from anywhere on the web.
You can easily collaborate, at no extra cost to either side, with people outside your company. As long as someone has an email address, you can share a document and given them the right to view, edit or comment.
You can more easily see what needs your attention. Team members can direct a comment to just one person or to a whole group. Notifications let you know when a document has been changed or a comment has been left for you. A "smart" cloud drive can even flag up the documents you're most likely to need based on who last edited them and when.
To find out more about how your company can create more effective and productive teams, please click here for an overview of Digital Transformation.