For businesses embarking on or undergoing digital transformation, there are many platforms and services to choose from that it can be a little overwhelming.
In this article, we'll look at the Google Cloud IoT offering, and explain how it can help to support your organisation's goals.
What is Google Cloud IoT Core?
The Google Cloud Internet of Things (IoT Core) is a cloud-based fully managed service that allows users to securely connect and manage devices. Whether it's a handful of devices in a single place or millions of endpoints dispersed around the world, Google Cloud IoT Core is able to ingest data into a single point and integrate it with other Google Cloud Platform services.
IoT Core enables connected devices to interact with each other and with applications built and housed in the Google Cloud Platform (GCP). This happens in a non-disruptive way, meaning human users are able to access near real-time data as well as control the way that data is processed and filtered. It also allows for the passing of data between GCP and third-party systems.
How does IoT Core work?
You have no doubt heard of the Internet of Things in a domestic context; things such as smart refrigerators, voice controlled kettles and light fittings controlled via a smartphone app. A cloud-based IoT setup is a similar premise, but on a much larger scale — which is why it's beneficial for organisations, especially those moving towards a digital-first approach.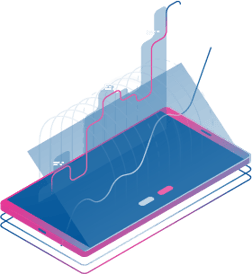 Using device data which is forwarded to the Cloud infrastructure, IoT works by triggering Cloud Functions and apps within the GCP environment to consume and process the data. From there, the data can then be fed into various GCP applications and tools. For example, real-time monitoring can be done through Cloud Bigtable, while BigQuery can be used to enable machine learning or pushed to Looker or Data Studio for visualisation and reporting.
Administrators are able to control inputs and access via Edge Manager, while wholesale device configuration updates and commands can be synchronised and delivered directly to each device via the IoT Core setup.
Benefits of IoT Core for organisations
The many layers of capability that Google Cloud IoT Core offers mean that it brings a host of benefits for businesses and organisations. These include:
Data ingestion and processing — IoT Core allows for easy, efficient and powerful ingestion of data, along with processing and cleaning that allows users to view reports and visualise key metrics in real time.
Connectivity — in what's becoming an increasingly connected world, many organisations have moved (or are in the process of moving) to remote and hybrid setups; IoT Core allows those organisations to remain connected to a single entity and to each other.
Security — Google Cloud IoT Core conforms to industry standard security protocols, meaning it's a safe environment for the processing, storage and movement of data in a secure manner.
Scalability — As your business grows or your use case evolves, so too does the IoT Core infrastructure. There's no need to worry about investing in new servers; it's all scaled instantly without any limits.
Reliability — The Google Cloud Platform claims to be the most reliable cloud service, with an uptime of 99.5%.
Business uses for IoT Core to support digital transformation
Because of its flexibility, scalability and ease of use, Google Cloud IoT Core is at the forefront of innovative cloud solutions. With more and more businesses embarking on digital transformation journeys (or finetuning their existing digital infrastructure), IoT Core provides additional opportunities for streamlining processes and gaining more insight.
IoT can be used in a number of ways, and — dependent on the purpose and need — can provide a wide variety of outputs and insights. Here are some ways in which different industries can harness the Google Cloud IoT Core.
Asset tracking, visual inspection, and quality control

Particularly useful in in retail, automotive, industrial, supply chain and logistics industries

Remote monitoring and predictive maintenance

Used by oil and gas firms, utilities, manufacturing, and transportation organisations

Vision intelligence

in retail, security, manufacturing, and industrial sectors

Smart and connected living

in commercial, residential, and smart spaces

Smart factories and manufacturing centres

with predictive maintenance and real-time plant floor analytics

Real-time reporting and data visualisation
Experience the power of Google Cloud IoT Core
If you're an organisation looking to evolve and become more innovative, more connected and better equipped for the future, Google IoT Core is without doubt one of the best investments you can make.
Given the platform's intelligence, integration capabilities with other Google Cloud Services and third-party tools, it's the perfect option for organisations looking to transform at pace, securely and safely.
As a Google Premium Partner, Ancoris is able to offer detailed advice and fully managed Google Cloud Platform services, so if you're keen on experiencing first-hand just how powerful a move to the cloud can be, get in touch with us today. Our experts will be on hand to guide you through the process.