In a bid to drive the use and uptake of Google Apps, Ancoris, a cloud service provider and Google enterprise partner, has released an overhauled version of Cloud Skills Academy, its recently-acquired online resource designed to support organisations that use Google Apps.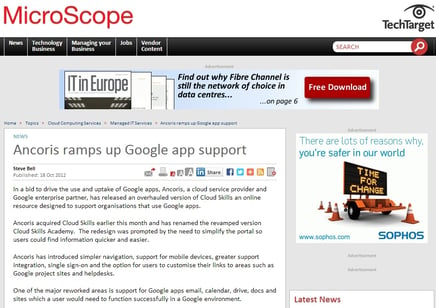 Ancoris bought the product's developer Cloud Skills earlier this month, and said the revamp was prompted by the need to simplify the portal so users could find information quicker and easier.
Ancoris has introduced simpler navigation, support for mobile devices, greater support integration, single sign-on and the option for users to customise their links to areas such as Google project sites and helpdesks.
One of the major reworked areas is support for Google apps email, calendar, drive, docs and sites which a user would need to function successfully in a Google environment.
A recent report by Wakefield Research, commissioned by Citrix, stated that there are currently 40 active million Google app users worldwide.
In the wake of continued uptake Google Apps said in September this year it will no longer support the downloading of documents in older Microsoft Office formats.
This affects '.doc,' '.xls, and '.ppt documents created in Office versions 1997-2003, and impacts on Google Apps for business, government and education as well as Google apps used by individuals.