Google+ is finally gathering momentum amongst marketers and one of its functions in particular – the Google+ Hangouts video conversation system – is proving to be popular. New Media Knowledge sought an expert to explain best practice of the Hangouts for business. By Chris Lee.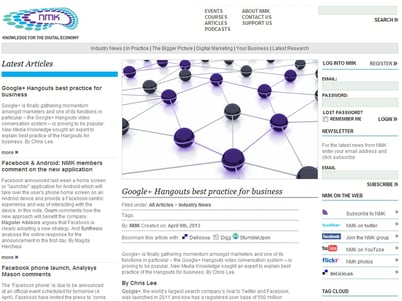 Google+, the world's largest search company's rival to Twitter and Facebook, was launched in 2011 and now has a registered user base of 500 million worldwide. Despite industry jibes over number of visits to the site, it can boast around 235 million active users.
One of the key features on Google+ is the Hangouts function, a video chat facility which enables up to 10 people to participate in what is, in effect, a videoconference. This can be broadcast live to anyone in possession of the Hangout's URL, and can also be shown on YouTube and therefore embedded into websites as video content.
Famous users include US comedian Conan O'Brien, Black Eyed Peas and even the White House.
Business use of Google+ Hangouts
So how can businesses make the most of the Hangouts feature on Google+? NMK caught up with Anne-Laure McLeman, Marketing Director at Ancoris, a Google App developer. McLeman explained that Ancoris used Hangouts as a way to communicate face-to-face without incurring videoconferencing and travel costs.
"You can have engaging meetings without the need to travel, book rooms, hire expensive and complicated broadcast equipment," she told NMK. "The visual aspects of Hangouts also allow for more meaningful and personal engagements. A picture speaks a thousand words. By using Hangouts, you can see people's body language and gauge the reactions to the points that you raise. The more important and delicate the discussion or negotiation, the greater the value of being able to view reactions as they occur."
Hangouts can be used from any device, regardless of whether that is a MacBook running MacOS or Windows PCs. Users on the move can start or join a Hangout on iPhone, Android-based smartphone, iPad or tablet PCs running Google's Android platform.
"Being out of the office no longer means that you are out of touch or disconnected from your colleagues," McLeman added.
Google+ Hangouts for business
McLeman believes that Google+ Hangouts make conversations more relaxed and can enable companies to develop friendlier relationships. But what are the key lessons she has learned from being an early business adopter of Google+ Hangouts?
"If you have used consumer products such as Skype, the experience is similar," McLeman explained. "The advantage is that you don't have to launch a new application as Hangouts are an integral part of Google Apps for Business."
McLeman recommends businesses use Hangouts instead of the phone for most of their interactions, even just for short chats.
"The more you use them, the more comfortable they become. Soon, they become a very natural way of communicating at work," she said. "Add Hangouts to meetings direct from your calendar - it's only a click and your guests will have the link to join."
McLeman unveiled her top tips for businesses looking to use Google+ Hangouts:
Use Hangouts rather than physically travelling for a meeting. Not only does this save costs but it also reduces precious time lost travelling between locations
Use Hangouts if up to 10 people are required in the meeting
Use Hangouts in meetings when decisions need to be made and where a "face to face" helps drive to resolution
Provide training Webinars on your products through Hangouts, allowing for two way dialogue and visual learning
Record sessions with Hangouts on-line and then share them to Google+, either to your circles or through the use of communities, allowing your messages to go viral