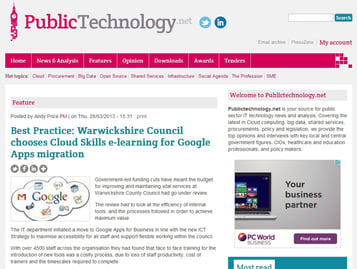 Government-led funding cuts have meant the budget for improving and maintaining vital services at Warwickshire County Council had go under review.
The review had to look at the efficiency of internal tools, and the processes followed in order to achieve maximum value.
The IT department initiated a move to Google Apps for Business in line with the new ICT Strategy to maximise accessibility for all staff and support flexible working within the council.
With over 4500 staff across the organisation they had found that face to face training for the introduction of new tools was a costly process, due to loss of staff productivity, cost of trainers and the timescales required to complete.
"The initial roll out for Google Apps for Business provided the ideal environment to introduce a new training culture in the Council which allows users to choose how they receive training," explains Alison Ward, ICT Training and Development Manager at Warwickshire County Council. "We had contemplated writing our own e-learning programme for the roll out, but this would have cancelled out the time and resource savings we were looking to achieve".
As a result, Warwickshire looked to Ancoris and its Cloud Skills Academy e-learning platform, which was fronted by a tailored "Going Google" intranet site, which would be the first place that all users visit for any questions on the migration to Google Apps.
Ancoris then worked with the Council to tailor the standard Cloud Skills Going Google site, to ensure all their key messages, best practices and migration procedures were included.
"The ability of users to refer back to the Cloud Skills Academy as they use new tools or features or encounter problems has also been invaluable. Our Service Desk have also responded to user queries by providing links to the Cloud Skills Academy; reducing calls raised, encouraging user self-help. Staff have appreciated being able to try the tools out and become accustomed to them gradually rather than being forced to apply them in one go. User feedback has been really positive." explains Ward.
Despite its success, there were still plenty of considerations to be made when coming to a decision on the right solution. Ward highlights some of the key points she had to consider:
Business change management including training, communication, and support remain just as critical with Cloud based solutions as they are with on-premise.
Ensure you have good links with the internal communication teams and where possible establish 'champions' within the business to communicate through.
Use of public cloud solutions can enable a rapid business transformation in flexible working. Be prepared for this by having a strategy for device selection, access methods, policies and guidance.
Use the G-Cloud CloudStore to search for and select solutions and services to simplify procurement and help ensure the right security accreditations are done up front.
Don't assume that the Cloud solution must do everything that the previous in-house system did before. Use the project as an opportunity to review functionality requirements and avoid bespoke solutions. This will help maximise value for money - consume utility services that are 'ready to use'.
To learn more contact our digital transformation experts.