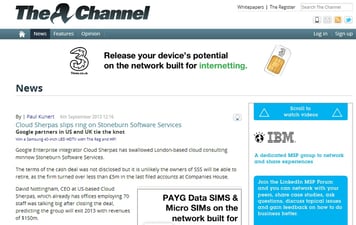 Google Enterprise integrator Cloud Sherpas has swallowed London-based cloud consulting minnow Stoneburn Software Services.
The terms of the cash deal was not disclosed but it is unlikely the owners of SSS will be able to retire, as the firm turned over less than £5m in the last filed accounts at Companies House.
David Nottingham, CEO at US-based Cloud Sherpas, which already has offices employing 70 staff was talking big after closing the deal, predicting the group will exit 2013 with revenues of $150m.
"The UK and Western European cloud and Google Enterprise markets have very quickly transitioned from early adopter phase to established businesses," he said in a canned statement.
Roughly 10 per cent of Cloud Sherpas biz is generated in Western Europe, already he claimed.
SSS is a Premier Google Apps and Google Search partner, accredited across EMEA. It sells to small and medium sized enterprises in retail, media, manufacturing, and transportation/ logistics. It also flogs ServiceNow and salesforce.com.
Ciaran Cosgrave, co-founder at SSS will become veep for Cloud Sherpas Google business unit in the UK and his business partner Nazir Ul-Ghani is to become head of sales for Cloud Sherpas Google division.
David McLeman, boss at rival Google integrator Ancoris, told us consolidation in the cloud channel is "likely to continue" - his firm has acquired Google partners Cloud Skills and Appogee.
"Google Apps remains strong," he told us, "future growth is also [expected] from new areas as Google offers new services such as their Cloud Platform which competes with AWS and the new platform offerings in the Geo space such as the Google Map Engine".