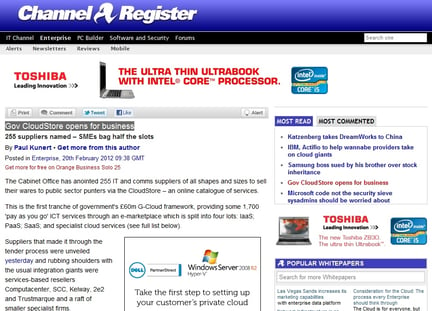 The Cabinet Office has anointed 255 IT and comms suppliers of all shapes and sizes to sell their wares to public sector punters via the CloudStore " an online catalogue of services.
This is the first tranche of government's £60m G-Cloud framework, providing some 1,700 'pay as you go' ICT services through an e-marketplace which is split into four lots: IaaS; PaaS; SaaS; and specialist cloud services (see full list below).
Suppliers that made it through the tender process were unveiled yesterday and rubbing shoulders with the usual integration giants were services-based resellers Computacenter, SCC, Kelway, 2e2 and Trustmarque and a raft of smaller specialist firms.....
Google Apps for Business partner Ancoris is one of those small cloud providers, getting a foot in lot 4.
Ancoris MD David McLeman said G-Cloud is a "significant break from the old cartel of large suppliers running massive government IT projects which have dominated public sector IT.
"Previously the cost and complexity of the procurement process deterred many channel specialists from engaging with the sector," he told The Reg.