As discussed in our blog on Top tips to run a remote workshop with the Jamboard app - without a Jamboard, the Jamboard app is Google Workspace digital whiteboard for real time collaboration and sketching ideas. All users have the Jamboard app included in their suite of apps when they have logged onto Google Workspace.
In this article, we'll look at different ways of accessing the Jamboard app, and how you can incorporate a jam into your Google Meet video calls.
Accessing the Jamboard app
The Jamboard app can be accessed via the App Launcher in Google Workspace on the web, and you can also use the Jamboard app on your iOS or Android smartphone, tablet or Chromebook. Depending on the device you are using to access the app, you will have different features available to you.
Web browser

Use the web interface in Google Workspace to create basic Jams that contain sticky notes, text boxes, basic shapes and images.

Mobile phone

Use the Jamboard app on your phone to convert handwriting to text and insert Google Docs to share in a Jam.

Tablet

Use the Jamboard app on your Chromebook or tablet to convert drawings to shapes, and to add stickers to your Jam
However you access Jamboard, you will be able to use the basic functionality of the tool to add sticky notes, text boxes, shapes and images to a jam.
You will be able to create additional frames in your Jam file to group relevant discussions together, and will be able to share your Jam file with colleagues to edit or view the file themselves.
Did you know?
As well as sharing Jam files with colleagues to view or edit at any time, you can also export a Jam frame as an image or the entire board as a PDF that you can then share as required. If the Jam changes after the file has been exported, the exported version will not update automatically, but provides a snapshot of the Jam at a specific time.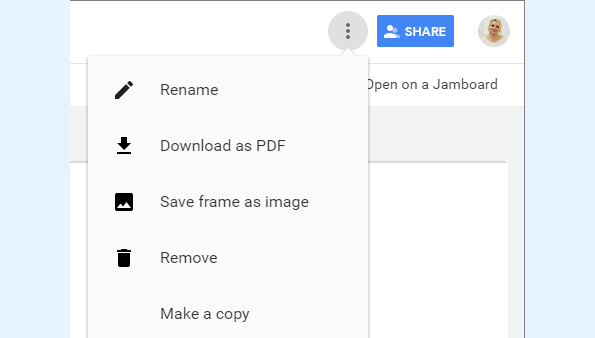 If you access the Jam app on your mobile device, you will have some additional functionality:
Convert handwriting to text
Convert drawn objects to shapes
Insert Docs, Sheets, Slides and images from Google Drive
Add photos from your camera roll
Take new photos to include on the board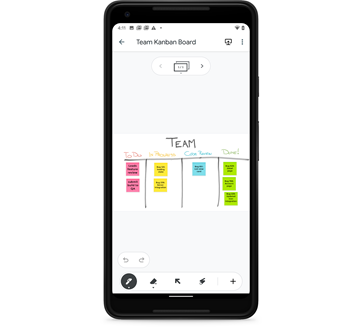 The Jamboard app on tablets and Chromebooks offers even more functionality, including:
Autodraw suggestions when you create shapes
Add stickers and shapes e.g blank computer or phone screens
Drag items between frames, or to the bottom of the screen to remove them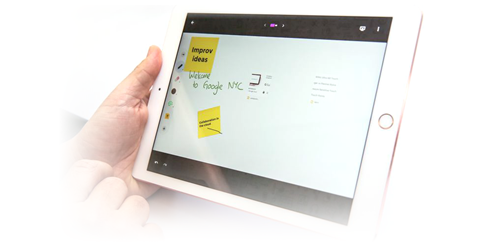 Did you know?
The AutoDraw feature in Jamboard uses artificial intelligence to convert your rough sketches and scribbles into symmetrical icons and clipart, with suggestions offered based on what you draw.
This feature is currently only available on the Jamboard app for tablets and Chromebooks.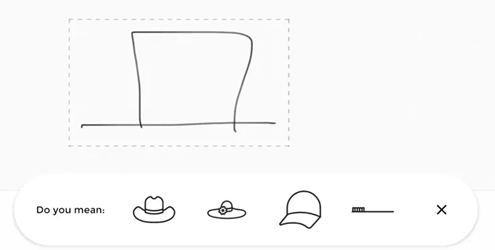 Google Meet Integration
Google has now incorporated Jamboard into Google Meet to provide even easier access to digital whiteboard in a video conference.
You can add a Jam whiteboard to any Google Meet video call, and invite all participants in the call to edit the Jam. The Jam will be saved in Google Drive so that it can be viewed again at any time after the meeting.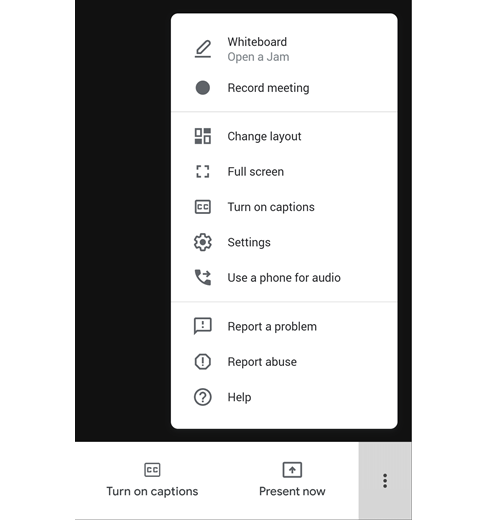 Did you know?
When you add a whiteboard to a meeting in Google Meet, you can choose to create a new Jam file, or work on an existing Jam file in Google Drive. The jam file will be shared with all meeting participants and a link to the jam will be posted in the chat pane of the meeting for everyone to access as required.