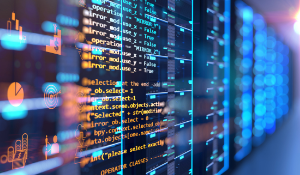 Machine learning (ML) is a kind of artificial intelligence that uses large volumes of data to train algorithms. When these algorithms are applied to fresh data, they can identify and label the content it contains, or make accurate predictions, or unearth patterns.
This is a very different approach to conventional IT, where you have to provide precise rules to allow a system to complete a particular task. With ML, the system works out what the rules are on its own, through training, and can improve its performance over time. ML can also deal with a much greater level of uncertainty and variation in the data: in the case of an artificial brain developed by Google, the algorithm learned to pick out cat videos on YouTube even though it hadn't been fed any information about the specific features that can be used to identify cats.
For businesses, ML allows them to surface the untapped value in their data to deliver competitive advantage. Just how important it can be to a company's success is shown by survey from MIT which found that 60% of leading businesses have already begun implementing an ML strategy. Over a quarter of those businesses are already spending more than 15% of their IT budget on ML.
ML has applications in every industry. For example:
Retailers are using ML to improve their supply chains, through better forecasting, as well as in systems that recommend related products to customers browsing their websites
Manufacturers are using ML to automatically control the temperature, humidity and other environmental factors in their production facilities — often reducing their utility bills significantly — or deploying ML to identify defective products by automating visual inspection.
Media and Gaming companies are using ML to automatically classify content to allow it to be easily searched, along with identifying the characteristics of their most profitable customers so they can target them with appropriate offers.
Financial Services companies are using ML to detect fraud and analyse customer risk when approving credit applications.
ML is also playing a significant role in helping IT teams across all industries to enhance their cybersecurity efforts, by identifying and automatically responding to suspicious patterns in network traffic and server loads. In fact, it's a key benefit of ML for over 85% of early adopters.
Despite its advantages, however, ML can seem out of reach to many companies. It requires massive and flexible resources, along with deep but rare technical expertise. That's why companies are looking to the cloud to deliver their ML projects — with more than 85% of ML workloads running in the cloud — and why cloud providers like Google are developing easy-to-use tools that give every company access to these powerful technologies.
If you'd like to know more about how Machine Learning on the Google Cloud Platform can help your business, download our guide to 4 ways you can use ML in your business or come and talk to the ML experts on our GCP team.