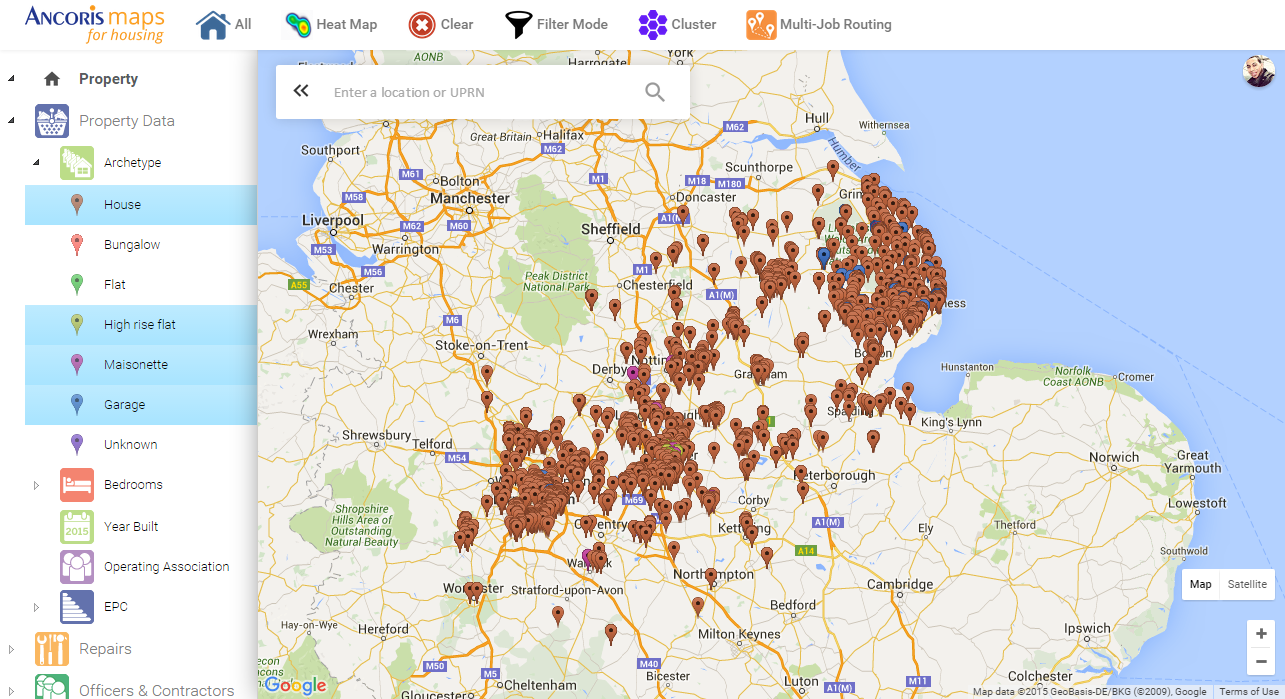 Ancoris Maps for Housing is an online mapping and visualisation solution for housing associations, available on an annual subscription basis and built on the Google Cloud Platform.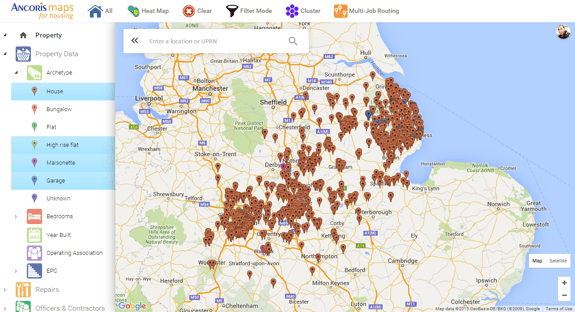 Our ROI model, based on customer data, shows that a housing association with approximately 22,000 properties could save over £100,000 in operational costs by:
Improving housing officer productivity, saving £70,000 pa
reducing rent arrears, saving £7,000 pa
increasing estates officer productivity, saving £18,000
optimising repairs, saving another £18,000
Ancoris Maps for Housing gives housing association workers access to live data from their existing systems such as property types, voids, rent arrears, housing officer patches, administration boundaries and maintenance status, which are then overlaid securely on a familiar Google Map.
The online service helps housing associations to reduce costs, improve decision making and enhance tenant satisfaction. Examples include:
increasing the number of property and tenant visits by letting, rent, maintenance and estate officers through improved travel planning.
ensuring gas safety checks are valid, and repairs are done on time by allocating appropriate staff based on location.
reducing rent arrears by visualising information to plan and take preventative action.
allocating property to the right tenant by matching customer needs to local areas.
The solution combines operational data with location elements and is accessible from any device, web and mobile. This data can be filtered and analysed to identify trends and patterns to help improve housing association performance. In addition, when staff are in the field, they can optimise travel planning from the map, and easily contact tenants, contractors or other workers.
Jon Cocker, Director of Business Technology at Waterloo Housing, said after a successful pilot: "Ancoris Maps for Housing has given both directors and housing officers a much clearer picture of our housing stock to help make smarter decisions and improve productivity. 94% of our users said mapping would be a vital tool moving forward".
"We want to help housing associations experience the transformative nature of going digital with applications based on the simplicity of Google Maps" commented Ancoris CEO David McLeman. "With continued pressure on housing, we can support Housing Associations as they carry out their vital role in communities, with relevant information and data to help them make better decisions for tenants."
For more information about how you can add custom Google Maps features powered by geolocation APIs to your website, mobile apps and internal applications - come and talk to our Google Maps experts.