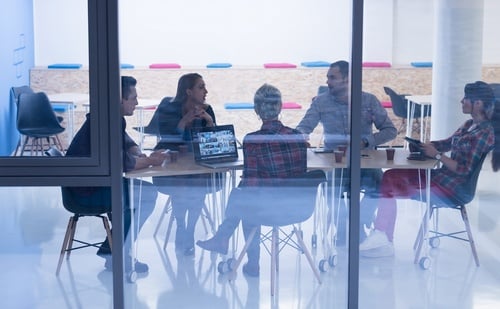 Digital technologies are something we now all take for granted to stay connected in both our personal and working lives. Yet many businesses are still struggling to use technology to create a truly connected workforce, one that allows workers to collaborate seamlessly with colleagues across the organisation.
That's because creating a digital workplace where team collaboration is as natural as breathing involves more than enabling technology. It demands a change in the mindset and culture of the organisation: to recognise that "work" is no longer a place we go to, but something that can happen anywhere, at any time, and from any device.
To achieve that shift in attitude, what workers need are digital technologies that allow them to do the following:
1. Work from anywhere, on any device
Being on the move, working from home or being out at a client site is no longer a barrier to staying involved in workplace discussions. With cloud-based office tools, you can securely access and work on your documents no matter what device or operating system you're using.
2. Work on documents simultaneously
Discussing ideas and brainstorming towards a better result becomes easier when you can see suggestions and changes from colleagues in real time as they type. With everyone working on the same document, you also don't have to spend time collating suggestions or worrying about version control.
3. Quickly share documents inside and outside the organisation
Creating ad hoc teams and pulling the right people into the discussion – even if they're an external partner – becomes a breeze.
4. Easily schedule and hold discussions
Smart scheduling solutions save you time when trying to bring everyone together. Being able to fire up video meetings from your browser in seconds – and pull in anyone who needs to attend, even by phone – helps everyone maximise their contributions.
5. Brainstorm effectively
With a shared virtual whiteboard that lets you pull in digital content and see everyone's scribbles in real time, you can concentrate on generating ideas and discussing them, not just making sure everyone's on the same page.
6. Create and maintain team intranets themselves
When employees don't need design or programming skills, everyone can quickly create and update team sites with all kinds of content. You can hand back responsibility for keeping everyone in the loop to the people who know the content best.
7. Easily control who sees what
You want collaboration to be seamless, but also secure, so your business can meet its regulatory and commercial obligations. As well as being able to store and transmit data securely, it should be easy to add and remove team members as needed, and control exactly who can see, share and edit each piece of content.
Working with a Google Workspace Premier Partner
Ancoris is only one of a handful of European Google Cloud partners with the Work Transformation Enterprise specialisation. Our deployment experts will help you make a smooth transition―for the technology and for the people using it.
A business is only as good as its people – so why not make them extraordinary? Empowering them to work better together not only unleashes their talent and creativity but makes them your competitive advantage. The modern, easy to use applications in Google Workspace make real-time collaboration a breeze. Combine Google Workspace with Chrome Enterprise and you've got the most secure and mobile workplace.
To complement our technical service delivery consultants, we have a dedicated in-house change management and user enablement team to guide you through the process.
If you'd like to find out more about how we can help you to create your digital workplace, why not take a look at some of our customer success stories or talk to our Google Workspace specialists.