Google Maps Platform (GMP) has undergone significant transformations over the past 15 years, expanding from basic 2D Maps, satellite imagery and street views to now include immersive experiences powered by advanced AI and computer vision technologies. The continuous improvement of geospatial technology has raised user expectations for visually rich and contextually relevant digital experiences that mirror real-world encounters. During last week's Google I/O event, several new products and capabilities were announced, spanning 3D imagery, map customisation and routing, empowering developers to create these engaging experiences for their users.
Introducing Aerial View API and Photorealistic 3D Tiles for Immersive Experiences
Google is launching two new products that provide developers access to the same 3D map source employed in Google Earth, enabling them to go beyond conventional maps and offer truly immersive experiences to their users.
Aerial View API (Preview) –

By making a simple API call, developers can leverage Aerial View to programmatically access cinematic videos showcasing places, landmarks or points of interest from an aerial perspective. Aerial View facilitates users in familiarising themselves with areas such as bodies of water, schools, major roadways and more. Google handles the video renderings, hosting and serving through YouTube infrastructure. Initially available for Postal Addresses in the USA, high resolution aerial videos can be requested and support for additional regions is coming online very soon. A YouTube demo can be

viewed here.

Photorealistic 3D Tiles (Experimental)

– A new geospatial data product available through the Maps Tiles API, this enables developers to create highly customised 3D visualisation experiences that accurately represent real world locations within their applications. By utilising high resolution 3D imagery, users can virtually explore and navigate real world places, solving spatial problems and evaluating places remotely. Communicating geographic information in an intuitive manner can help differentiate brands and provide delightful experiences for users. Again, take a look at the YouTube demo of this

service here

.
Aerial View and Photorealistic 3D Tiles serve the purpose of building immersive experiences, with the choice based on the specific use case. Aerial View is ideal when quick, out-of-the-box API access is desired to showcase videos of specific places using 3D imagery. On the other hand, if developers aim to create highly customised and interactive 3D visualisations of larger geographic areas from various angles (such as pedestrian level, top down or various height levels), Photorealistic 3D Tiles is the suggested option.
Enhanced Customisation of Maps and Routes
To enable developers to deeply customise their geospatial applications and provide more contextually-driven experiences, Google has announced several updates in this regard, along with reusable web components for faster custom map development.
Data Driven Styling Capabilities – The preview release of data driven styling for datasets on the Maps Javascript API empowers developers to visualise and style their geospatial data as points, lines and polygons directly on a Map. Additionally, the new Maps Datasets API allows importing, storing and managing geospatial data server side within the Google Cloud Console. By leveraging these styling capabilities, developers can provide users with a better understanding of the distribution of features like trees in a specific area or create rich, customised choropleth maps. The example below illustrating trees in Seattle can give insights into the concentration of greenery for instance: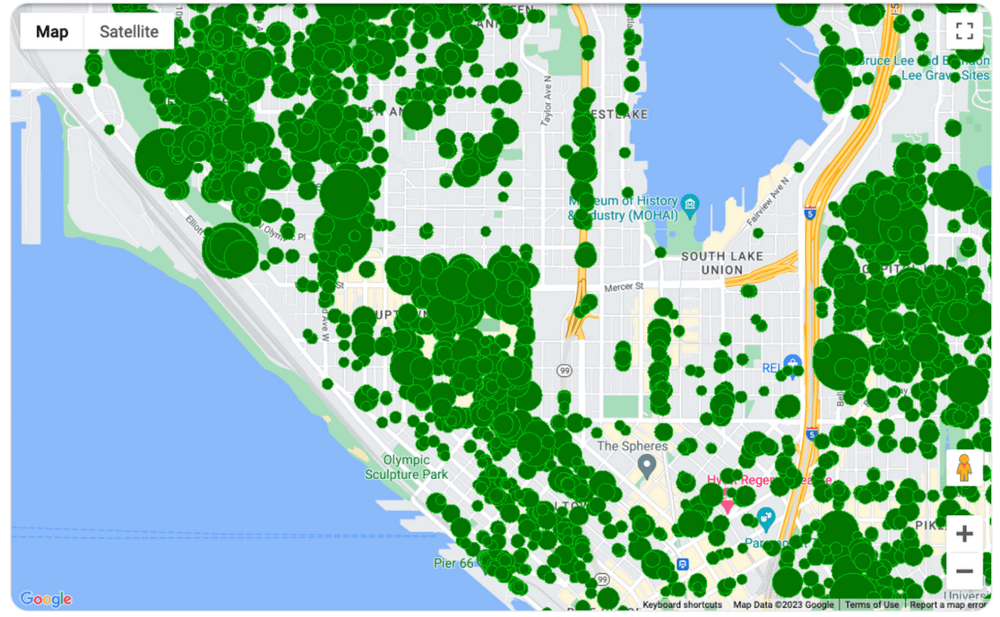 Advanced Markers (now generally available) – Advanced markers for Maps JavaScript API enable developers to create customised and performant markers, incorporating brand elements and other distinguishable visuals. This feature saves development time whilst offering a unique visual representation of favourite places or points of interest. For example, the below visualises 'Elton John's LA Experience', and shows iconography associated with his favourite places that give fans a visual clue of what they can experience at these specified locations.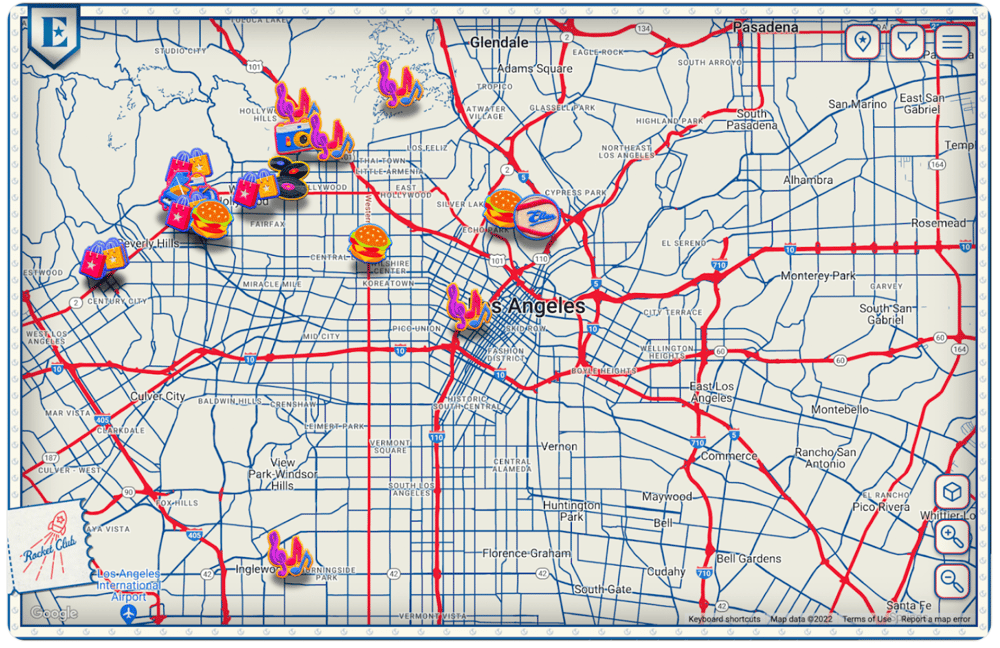 Enhance Navigation with Contextual and Flexible Routes using the Routes API (now generally available)
The Routes API brings a host of new advanced features, empowering you to offer more informative, adaptable routes with greater accuracy in terms of ETA; with these enhancements you can provide superior navigation experiences.
This new and advanced routing introduces a range of features including 2-wheel routes, specifically designed for motorised vehicles, toll data, real time traffic information and even eco-friendly routing (in Preview).
Web Components (Preview)
Developers can now leverage reusable Web Components that streamline the map development process, making it faster and more convenient. These components adhere to the W3C standards and provide functionalities that replicate what is available through the Maps JavaScript API. Additionally, an open sourced Extended Component Library offering a wide range of components is now available on GitHub and npm.
To discuss these announcements or any current maps deployment you have/are planning in greater detail, please reach out to our Google Maps team here at Ancoris via maps@ancoris.com.
Ancoris was one of the first companies globally to achieve the Google Cloud Location-based Services specialisation. This award from Google Cloud recognises both the support we offer to our customers to supply the Maps Platform licences, and also the added value of our consultancy services, all with location as the main focus.
We work with organisations from across the world to develop, deploy and/or manage the use of the Google Maps Platform APIs within Web and mobile applications. We can help and advise you about your current service deployment, or develop the new application for you.