If you're looking for a clean cloud solution to help your organisation on its journey towards net zero, there's really only one choice: the Google Cloud Platform.
The platform is recognised as the cleanest cloud provider and has a manifesto that it follows to uphold that reputation.
In this article, we'll take a look at Google's credentials and understand how you can use the platform to improve your business's own energy output.
How clean is the Google Cloud Platform?
Google itself is in little doubt, proudly declaring its platform as the "cleanest cloud in the industry".
But what exactly does that mean, and can it be definitively and independently backed up? Let's take a closer look at Google's claim and eco-friendly credentials.
Is Google Cloud environmentally friendly?
The Google Cloud Platform is currently powered by renewable energy sources, with the company purchasing enough clean energy to offset its carbon emissions since 2007. In some instances — during surges in demand — the Google Cloud data centres do take energy from nearby grid systems, which is not always from renewable sources. However, when the data centres use less energy than anticipated, Google releases the surplus back into those local grids.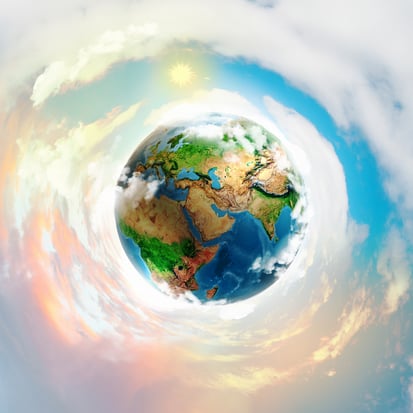 Since 2017, the company has also matched its global energy usage with purchases of wind and solar energy (the first major company to do so), meaning it is carbon neutral across its locations and data centres. In 2020, Google became the first corporation to neutralise its legacy carbon emissions through the purchase of renewable energy.
To maximise its eco-friendly approach to the cloud arm of its business, Google has undertaken a range of approaches to ensuring it runs in as clean a way as possible. Alongside its purchases of renewable energy, it has found innovative ways to use that power more wisely within its cloud data centres. For example, the data centres are cooled using outside air, and the company builds custom servers that provide performance at an efficient level. Google also leverages its own technology, data and AI to understand and deal with external factors, such as monitoring weather patterns to control internal temperatures within the data centres.
So, is Google the cleanest platform, as it claims to be? Well, although other cloud providers are also pursuing more efficient approaches to power their operations, Google Cloud Platform does tend to be ranked the number one in many independent review pieces, like this one from Wired.
And that's blacked up by its impressive Power Usage Effectiveness (PUE) statistics, which take into account overheads as well as running costs, and is measured across the company's global fleet of data centres. The PUE has consistently reduced since reporting started in 2008, and in 2021 came in at 1.1, compared to an average of 1.67 in other data centres.
Source: https://www.google.com/about/datacenters/efficiency/
With its successful arrival at carbon-neutral well ahead of competitors, and its continued commitment to a carbon-free future, Google is undoubtedly the leader of the clean cloud pack.
Google's commitment to clean cloud solutions
Having offset its carbon emissions since way back in 2007, Google has continued to roll out a range of initiatives and targets to provide its services even more using more renewable energy sources.
In what it calls its 'third decade of climate action', the company is working towards bold plans for reaching a carbon-free global operation by 2030. That means that every data centre and Google property will run on renewable energy 24/7, every single day.
Take a look at this video to understand more about Google's record and commitments to a cleaner future:
In addition to its commitment to carbon neutrality, Google is also promising better 'water stewardship' and aims to replenish more water than it uses by 2030. This will include recycling water across its data centres and locations, and focusing on supporting ecosystems where fresh, clean water is in short supply.
Alongside its own operations, Google is keen to share its capabilities and data with other businesses, empowering them to take control of their own energy efficiency programmes. Having shared interesting insights into the material impact of using its products, Google says that:
The U.S. General Services Administration was able to reduce office computing costs, energy use, and carbon emissions by 65-90%
Businesses using Gmail reduce the environmental impact of their email by up to 98% compared to companies running email on local servers
To further support businesses to take more control of their emissions and environmental impact, Google launched a new tool — Carbon Footprint — in 2021. Native to the Google Cloud Platform suite, the tool enables businesses to measure and report on their carbon emissions with the end goal of highlighting areas for improvement.
How Ancoris GreenLab can help towards your net zero goals
In an age where energy and carbon output is becoming increasingly important — in many instances a business within a business — the Google Cloud Platform continues to set the standard for clean cloud computing.
It's already leading the way with its achievements to date, with much more to come in the near and distant future.
However, taking advantage of a more environmentally friendly solution can be a daunting prospect, particularly if your business is still using local servers and running its own data centres.
That's where GreenLab by Ancoris can help. GreenLab helps business leaders contribute to their organisation's energy goals by providing insight into the carbon impact of on premise and hosted datacenter deployments. As a Google Cloud Premier Partner with over a decade of experience working with Google, our team of specialists can help you leverage Google Cloud to transform into a more efficient, flexible, and scalable organisation.
Our GreenLab Assessment helps you understand how to make sure your business is run in the most efficient way. We'll help you uncover a path to a cleaner, more environmentally-aware future.
For more information on how GreenLab can help you get maximum value from the Google Cloud, download our free whitepaper today!