Downtime is damaging for any business or organisation. Every second that your staff are unable to access their documents or systems, or that customers can't access your website, means loss of time, money and — possibly reputation.
So, when migrating to a cloud platform, you need to have confidence that it's a reliable and dependable service.
In this guide, we'll dive into the Google Cloud Platform (our cloud computing platform of choice) and understand just how reliable it is.
Google Cloud Outages
Every organisation suffers from outages and downtime — even those as big as Google.
With such a large-scale cloud operation, downtime may be felt by some users in certain areas of the cloud, often restricted to particular territories, regions or zones. Google keeps a running log of issues which can be viewed here, with each issue noted and the time to resolution recorded.
Google is transparent about its service availability, providing a near real-time report on current service status across the continents.
What makes the difference is how businesses and organisations bounce back from these setbacks, what controls they put in place to mitigate their impacts and how they move to avoid them from happening again.
Google's commitment to reliability
Like most cloud providers, Google aims to give users a seamless experience, and is dedicated to achieving an uptime of 99.99% or above. That's a bold commitment, but there are several steps which the company takes to ensure its operations meet that target.
Robust security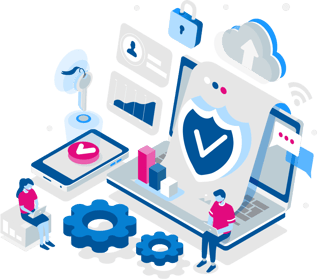 Cyber security is paramount for all businesses and organisations, and with remote working on the rise, it's more important than ever that your systems and networks are secure.
Google's end-to-end security stance is baked into its GCP offerings, ensuring that users are kept safe from harmful threats and that networks remain secure and encrypted. There are also advanced security tools available to help organisations fulfil data compliance protocols.
Automation to avoid user error
Humans are the biggest weakness when it comes to computing.
Whether it's data inputted incorrectly, a loss of work or users overwriting changes, it's easy for things to go wrong where people are responsible.
Google Cloud provides high levels of automation and capabilities for machine learning elements that can save your organisation time and, more importantly, reduce the need for human input — and therefore reduce the chances of human error causing an issue.
Embracing hybrid and multicloud setups
Many organisations rely on complex infrastructure setups, and that can extend to cloud instances and environments. In many cases, multicloud and hybrid cloud approaches are necessary to ensure the smooth running of systems and processes. Some vendors are unable to effectively deal with this, often locking users into their own suite of products and apps.
However, Google embraces the need for this type of collaboration, allowing users to run apps and access data across any cloud environment.
The need for speed
Whether it's internal teams or external customers, you'll be acutely aware of how important speed is online. Google has access to the Faster Cable system under the Pacific Ocean, which means the cloud offering is delivered at high speed — a game changer in businesses.
A truly global platform
Google Cloud Platform operates across the globe, with cloud services offered in hundreds of regions around the world. Geographical proximity can have a huge bearing on the speed and reliability of the service provided to your users, so it's reassuring to know that Google Cloud Platform has such a global reach — especially with many organisations now operating in multiple territories with remote workforces.
Environmental considerations
Sustainability and net zero are near the top of most organisations' to-do lists. For those looking to limit their impact on the environment, the Google Cloud Platform provides access to the 'cleanest' cloud. GCP is powered by renewable energy sources, with Google purchasing enough clean energy to offset its carbon emissions since 2007.
Our GreenLab service takes advantage of Google's commitment to reducing carbon emissions and the environment, and provides a detailed analysis of your organisation's progress towards its net zero goals.

How reliable is Google Cloud Platform?
There are many factors that determine how reliable a platform is, from environmental factors to user cases. If you're looking for a reliable platform, Google Cloud is an extremely safe bet. Take into account that the organisation already provides market leading cloud services in terms of reliability, and that it continues to innovate and adapt to squeeze as much performance out of the service as possible.
Ready to build your cloud infrastructure on a more reliable platform? Get in touch to see how Ancoris can help meet your needs with Google Cloud Platform.