Successful retailers are finding new ways to empower customers with valuable information to keep them engaged and drive faster purchases both online and in store. Providing local store information with a map is one of the most powerful ways they are doing this, with the most successful providing information such as local inventory levels to empower customers to make buying decisions and increase conversions.
In-store pickup services such as click and collect are becoming an expectation among customers with 79% of consumers having used it in the past year. However, click and collect can be both time-consuming and costly to the retailer from a transport point of view. If you can give the customer a further option to find out local stock levels by themselves, they can make a more informed decision to visit the store and buy straight away. This gives power to the customer to make the best purchasing decision for them, drives more traffic to the store and is faster and cheaper than shipping. You should also ensure that your store locator is mobile ready.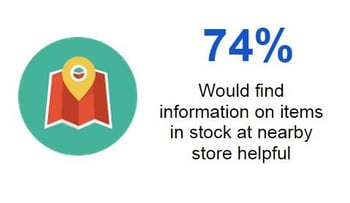 Recent research from Ipsos Media CT has found shoppers are actually inspired to visit a store after successfully finding information such as in-store stock availability. 74% said they would find information on stock availability very/extremely helpful.
As well as increasing store footfall, providing stock level information on a map can help customers avoid the disappointment of visiting stores to find the item that they want is not available. This can be frustrating and lead to negative brand image or the customer visiting a competitor. With online stock information, they can visit the correct store or if not available buy online for delivery. Result, happy customer.
Ace Hardware in the US are a good example of success. They have seen an average uplift of 18% to 20% in e-commerce sales since installing in-store pickup. The other thing to note is that this can provide a more accurate measure of how online is driving in store sales, something that can be extremely valuable to marketing departments.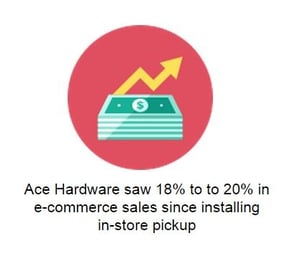 With up to 90% of customers starting their shopping journey online and a large majority of these actually buying in-store, providing information such as local stock levels on a map is an important part of a retailers omnichannel strategy and will result in higher store traffic, happier more informed customers and better results.
For more information about how you can use geolocation and Google Maps Platform in your business, come and talk to one of our Google Maps experts.