Marketers always have to answer one key question: "what was the return on our investment?"
The thing is, it can be a tricky conversation, especially if you're not effectively optimising spend through the different marketing channels. And you also need to remember that not all channels and campaigns are designed to generate revenue.
In this guide, we'll show you how to understand which channels to place your budget in to help improve your overall marketing return on investment (ROI).
How can you determine the best ROI marketing channels?
All businesses and organisations wish to have a healthy ROI from their marketing activity. But how can you actually understand which channels are performing the best in that regard?
The importance of granularity
When it comes to calculating ROI (i.e. the revenue generated from every pound or dollar spent) from your marketing activity, it's no longer enough to simply look at the overall revenue and budget numbers. Even having one channel with a poor ROI can mean the overall figure is pulled down dramatically.
With that in mind, it's important to report not only from a top level, but to drill down into the individual channels to better understand which ones are driving the best ROI.
Understand the goals and objectives
Another key consideration is to actually understand the goal of a particular marketing activity. There are different objectives for different campaigns, so it is important to establish clear goals for each.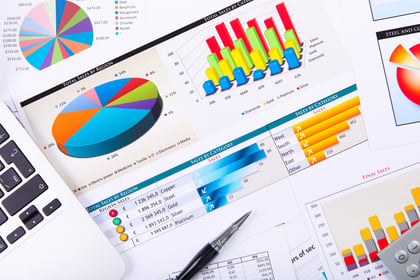 That means assigning relevant and realistic KPIs to each campaign and measuring success based on the right metrics. For example, a brand awareness campaign will focus more on growing visibility, so metrics like number of social media followers or direct website visits would be more relevant than looking at the number of sales or revenue generated.
How to spend your marketing budget effectively:
When defining marketing budgets, there are several steps you can take to ensure you spend effectively.
1. Define the goals
As already mentioned, goal-setting is extremely important in marketing campaigns, and you need to be able to measure the right metrics. To do this more effectively, split the marketing budget across your different goals, aligned to your sales funnel.
For example, allocate a certain percentage of budget to awareness campaigns designed to drive brand awareness, an allocation for consideration stage prospects (e.g. targeting with content) and the remainder to purchase stage prospects.
This approach will make it much easier to report back when campaigns are running and/or complete.
2. Understand your audience
A key pathway to successful marketing is an in-depth understanding of your customer and target audience. To better understand your audience, try these tips:
Speak with sales and customer service teams to learn the key FAQs they deal with
Create content that addresses and solves their pain points
Run focus groups to understand what their buying triggers are
Consider the various friction points at each part or the buying journey
Analyse demographic data
Create buyer personas or profiles that enable you to bring your audience to life
Identify where they hang out online (and offline, if relevant)
Knowing what makes your audience tick or what their mindset is at the different stages of your funnel enables you to craft compelling messaging that speaks to their needs at the right time, in the right places.
3. Use previous learnings
Using data from previous campaigns is another way to understand marketing ROI and the channels you should focus on for each of your goals. Look at last year's data (or insights from other similar campaigns you've run) to understand which channels performed best, and the reasons why.
This will provide you with a decent idea of how to structure your forthcoming campaigns.
4. Review and optimise
Of course, planning is one thing, but behaviour can change in an instant for certain audiences. If you're a store selling barbecues, demand for a grill can soar with a pleasant weekend forecast. A high profile data breach can lead to a surge in demand for cybersecurity. That's why it's important to continually review and have the agility to adapt your campaigns to drive the best ROI.
Reviewing your campaigns as they're running is essential to squeezing everything you can out of them.
5. Use AI to automate the process
In the age of big data and machine learning, marketers can gain benefits from the technology available. Using AI and machine learning to provide clearer insights into campaign performance, better understand customer behaviour and make more decisive, data-backed decisions provides a clear edge.
Want to optimise your marketing spend?

If you're keen to start spending your marketing budget more effectively and seeing a more positive ROI on your spend, it's time to go granular and really understand the purpose of your campaigns, the people you're targeting, and their current state of mind.
The tips outlined in this guide will help you to better understand the performance of your marketing campaigns and make more budget-friendly decisions.
Ancoris CMOLab centralises data across the entire customer journey, merging insights from various sources to provide a single customer view. Using Google Cloud AI, CMOLab visualises key metrics and uses segmentation and machine learning to provide accurate customer insights and marketing ROI to a channel level. This means that every dollar you spend is spent in the most effective way possible.
Take a look at this video for to see how CMOLab works:
Want to optimise your spend, maximise your ROI and leverage the power of data and AI? Contact Ancoris today to see how we can help with a one-stop solution to solve your marketing ROI headaches.