76% of customers prefer to purchase in-store and 71% of smartphone shoppers use a store locator to find a shop. Making sure people can easily locate and get to your store with a web and mobile locator is the starting point of a positive shopping experience.
How does a store locator improve the omnichannel experience?
A store locator can be used not only to help customers find and navigate to your store, but it can provide an immersive and memorable experience which presents a lot of additional information, which in turn can enhance your brand and increase footfall.
A locator should be consistent with your website and operate across all devices (web, tablet, phone, wearables), as well as having multiple touchpoints within your site: from finding the closest store, opening times, stock availability and getting directions to being able to send the directions to your mobile and have them come up as you make your way to the store.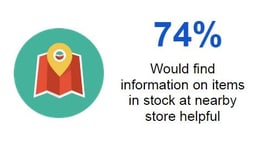 Research from Ipsos Media CT has found shoppers are actually inspired to visit a store after successfully finding information such as in-store stock availability. 74% said they would find information on stock availability very/extremely helpful.
How do advanced store locators improve customer experience?
The majority of retailers that have brick and mortar stores will have some kind of Google Maps store locator. The quality and effectiveness of these locators vary greatly with few embracing locators as part of their omnichannel experience. It should be a focal aspect.
Locators are one of the most valuable and used functions on a retailer's site. They can be used to improve a customer's experience and expectations of a retailer which extends far beyond finding where the closest store is. There are several things a store locator can and should do to make it part of an omnichannel experience. For a start it needs to be fully integrated into the rest of your site and be part of the brands look and feel. It should also:
Be mobile compatible with seamless experience across devices
Personalised to customer and their needs and location
Include stock levels and availability
Directions and routing for multiple modes including once in store
Multiple access and integration points from site
Include deals and offers to get people to store
Collect information for internal analysis and decision making
An example of a store locator in action
To bring to light how a locator can be used within an omnichannel experience I'd like to walk you through a scenario.
Dave wants a new television to watch the rugby world cup next year. His starting point is to research latest models and reviews. From this he decides on a top 3. To make a decision he would really like to see the TV's in real life and get further advice from a sales professional.
He starts looking for a shop and finds one that has an engaging website with even more information on the products. In one of the product pages is a button that says - best way to buy. He clicks this and is informed through a locator that the nearest store with the item in stock is 10 mins away by car or bus and that delivery can be with him within 3-4 days. Great, he clicks on the locator for more info and is shown directions and a street view image of the store inside and out. He sends the directions to his smartphone and saves them.
The next day he uses the saved directions on the mobile locator to navigate to the store and when he arrives is familiar with the layout and brand from the indoor street view imagery, so feels comfortable and relaxed. He finds what he is looking for, makes a decision with some friendly help and ends up purchasing additional accessories as well.
Businesses embracing mobile store locators
Toyota Europe are an example of a business who has embraced this and developed an optimised mobile locator for their dealers. They took the decision to make a website that is entirely optimised for mobile devices using the Google Maps API. The locator is fully integrated with other back-end services and made in such a way that it is fully reusable in websites in 26 markets. This approach has helped Toyota implement a consistent mobile experience across multiple countries and be easily found and visited while on the go.
7-11 are another good example of integrating the locator with a native application this time. The 7-11 app provides a customised, personal experience with location at its heart. Not only can you see 7-Eleven store locations near you, but you can star your favorites, filter locations by services like hot food, gas, propane and more. The app and the integrated map is at the heart of the 7-11 omnichannel strategy and has made a huge difference to how people interact with their local outlets.
Is your store locator winning you more business?
Making your store locator more than just a store locator can help build your brand, increase footfall and sales and form an important part of your omnichannel strategy. A good store locator along with other location tools, that will be explained in future posts, can really make a difference to how people interact and perceive your brand.
Working with a Google Maps Premier Partner
A Google Cloud Partner like Ancoris can help you apply the power of Google Maps to solve current business challenges and develop new digital models using location-based services.
We're not only a Google Maps Premier Partner but have achieved Google's Location-Based Services Partner Specialisation. This means we've demonstrated both technical proficiency and proven success in building and managing applications using the best of Google Maps Platform and Google Cloud Platform in both web and mobile environments.
If you'd like to find out more about how we can help you, why not take a look at some of our customer success stories or talk to the experts in our Google Maps team.
Article updated February 2021
First published September 2014