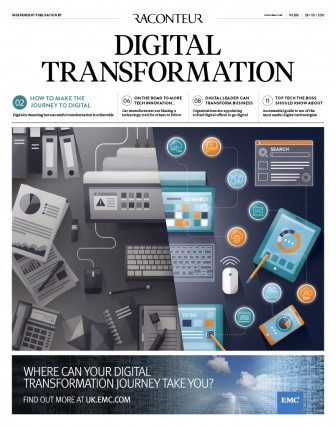 A report for Raconteur.net focused on a topic near and dear to us here at Ancoris: digital transformation. As the report notes, digital transformation is often a source of confusion and worry, but it's nothing more or less than getting a business ready to operate in a changing digital environment and able to cope with ongoing change.
Businesses need to get to grips with

digital transformation and how to create a digital workplace,

because it's simply not optional: no organisation or industry sector is immune from the disruptive effects of digital and mobile technologies. Those effects, which are picking up pace all the time, include:
changing consumer expectations
Increasingly intense competition from new entrants challenging current business models, as well as established players that have managed to achieve their own digital transformation
further developments in technology.
Successful digital enterprises have seven traits in common:
They're ambitious in their targets – and measure the value they get out of digital initiatives, not the volume.
They extend their capabilities by hiring in new skills from other sectors.
They ring-fence digital talent, so it doesn't get distracted by "business as usual".
They challenge everything – across every function, process, product and location.
They move quickly and are prepared to constantly reinvent themselves.
They take a focused approach to investment, concentrating on high-value areas and scaling up successes quickly.
They put customers at the heart of their digital transformation, learning from every interaction in order to improve the customer experience.
Waterloo Housing is a great example of an Ancoris customer that has transformed to become a digital enterprise. We initially helped Waterloo Housing to deploy G Suite to provide robust email and collaboration tools. The housing association, which has around 450 staff, then took the next step, calling on Ancoris to help it develop a map-based bespoke application that draws together information from all areas of its operations to help it manage properties and make smarter decisions. Housing officers and maintenance crews can now be assigned to optimised geographic areas to allow more visits to be made each day; tenants can be more quickly and easily allocated to the right properties with suitable facilities; and rent arrears officers can be more proactive in spotting trends and running campaigns in hotspots to reduce rent arrears. Altogether, this transformation project is delivering more than £100,000 in savings each year to Waterloo Housing.
To learn more about digital transformation and why you can't ignore it, read the full Raconteur.net report. To find out more about how your organisation, like Waterloo Housing, can respond to the challenge of digital transformation, come and talk to our digital transformation specialists.