One of the perceived drawbacks of hybrid working is that you'll lose some of the ability to be innovative and creative when people aren't all in the same office. How can people easily bounce ideas off each other — formally or informally — if they're not face to face?
In fact, hybrid working is no bar to innovation, especially when it comes to more formal brainstorming activities, thanks to modern collaboration tools like Google Workspace.
Here are 6 tips for how to run an effective brainstorming session when not everyone is in the same room.
1. Invite the right people
It's good practice to keep your brainstorming group small — 3 to 8 people is a useful rule of thumb — but you should also make sure you involve a diverse group of people: non-experts, who can challenge you with "silly" questions and unconventional ideas, as well as experts and people from outside your team. And you shouldn't give in to the temptation when hybrid working to only invite people you know are going to be in the office that day.
In fact, with Google Meet and Google Jamboard, remote participants can be just as involved in the discussions as the people in the room. They can access the digital whiteboard for the session through any device with a web browser or by using the Jamboard app on a mobile device. They can then use a split screen to view the Jamboard alongside the Meet video feed for the meeting. Meanwhile, in-room participants can use their laptops to make changes directly to the Jamboard, rather than funnelling them through one person updating a physical Jamboard.
While the exact features available in Meet and Jamboard will depend on the device you're using, everyone will be able to use the core features of adding notes, text boxes, shapes and images to the Jamboard.
2. Help people to prepare
The secret to any good brainstorming session is to keep it focused and keep it short. (Some brainstorming gurus even advocate a brainstorming session should last no longer than about 25 minutes.) To make that possible, you need to set a clear goal for the session, such as "identify ways to reduce response times to customer queries" or "plan three social media campaigns for next quarter".
You also need to make sure everyone understands not just what the goal is but any constraints or requirements, the meaning of key terms and which solutions have been tried before, as well as any other context. You should ask people to "do their homework" and come prepared with a few ideas, as a mix of individual and group brainstorming has been shown to be most effective.
With Google Workspace, it's easy to create and share documents that provide the agenda and context for the session. You can use a Shared Drive if there are multiple documents you want people to review before the session. In both cases, participants can quickly add and share more content if they think it's relevant.
Finally, remind participants to check before the meeting that they have the Jamboard and Meet apps installed on their mobile devices or can access the tools through their web browser.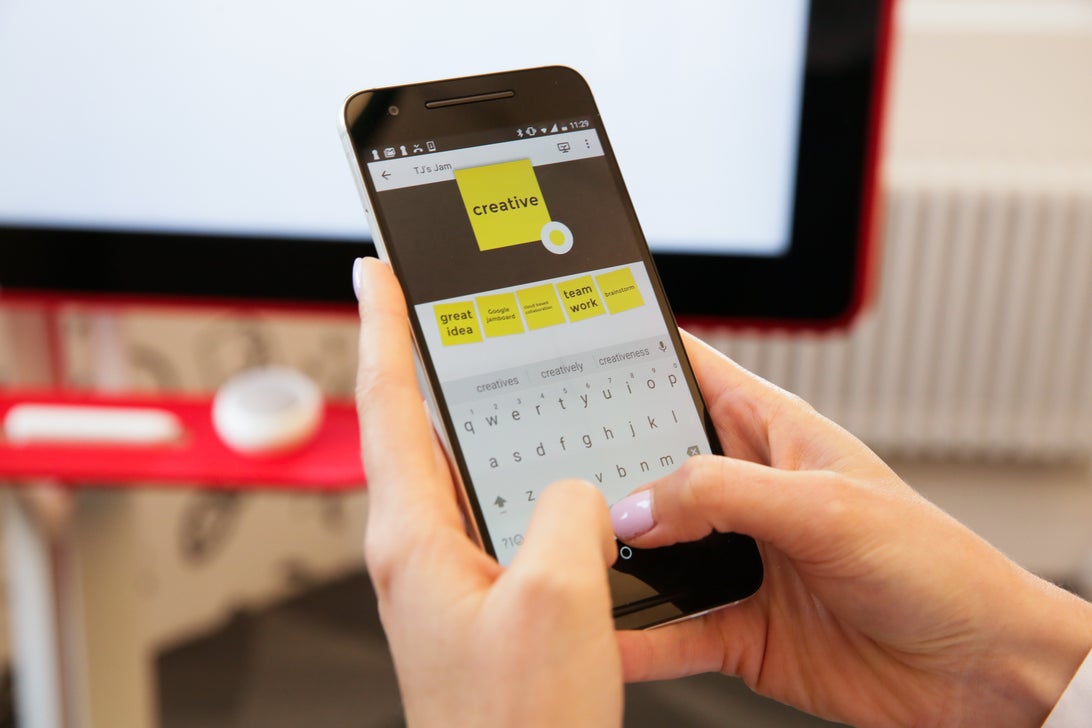 3. Pick the right facilitator
The facilitator's role is to act as a neutral party who keeps the session moving and focused, and ensures everyone gets a chance to contribute. Even if you called the session, you may not be the best person to lead it. Your organisation may have a pool of trained facilitators you can draw on, or there may be someone in your team who has the right mix of listening, time management, organisational and leadership skills to be the most effective facilitator.
Meet includes a range of tools that make the facilitator's job easier:
"Hand raise" allows them to see when someone wants to speak, so they can call on them (and Google Meet even puts your hand down for you after you've spoken).
"Polls" lets the facilitator quickly call for votes on each idea when you're trying to pick out the best ones.
The facilitator can quickly create breakout rooms without needing to set up separate Meet sessions. The facilitator can allocate participants to specific rooms, see if a room is asking for help and join that room, and end breakout sessions and call people back into the main session.
4. Use the right brainstorming technique
All brainstorming sessions are focused on the three basic steps of generating ideas, discussing them and selecting the best. You can use a number of techniques at the idea generation stage, such as brainwriting, stepladder and starbusting. The right one for your session will depend on your goals. For example, starbursting — which generates answers to the six questions who, what, when, where, why, and how — is great for brainstorming around a new product or service.
Jamboard allows you to create "frames" which can be used to group together related items or handle separate stages in the brainstorming process. You can drag content such as sticky notes between frames as you group them or pull out items for further consideration. You can also add background images, prepared in advance, such as a grid for a SWOT analysis or the starbursting star.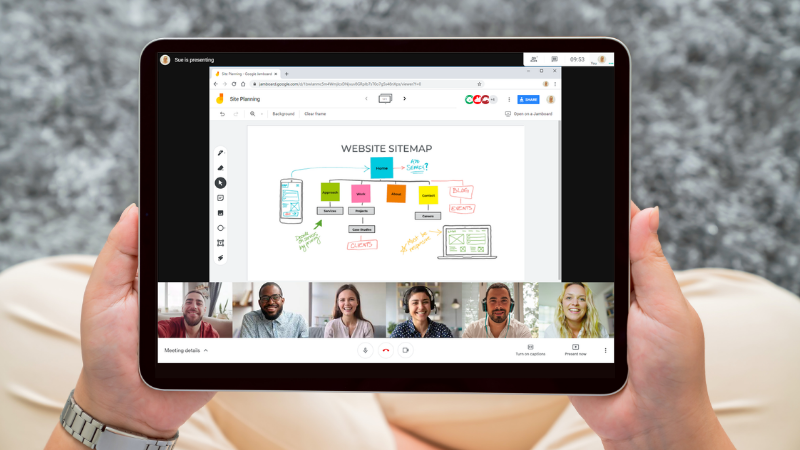 5. Run the brainstorming session
A clear agenda will keep the brainstorming session on track. For a hybrid brainstorming session, start with a quick introduction to the tools, to make sure everyone knows how to use them. After that, make sure everyone is on the same page by spending a short time confirming the goal of the session, the context and any constraints.
You can then move on to generating ideas and exploring options. Once you've got a good pool of ideas, it's time to sort and discuss them to identify the best ones. As mentioned earlier, the "Polls' feature in Meet can be a good way to quickly gauge the views of participants.
The final step is to wrap up the session by identifying what should happen next.
6. Follow up
Google Jamboard and Google Meet make it easy to follow up on brainstorming sessions. Jam files are saved in Google Drive and can be shared in the same way as Docs, Sheets and Slides. You can keep a Jam file "active" so people can add more thoughts, and even add new frames where participants can record how follow up actions are progressing.
You can also keep a record of your Meet session by recording it. Again, the recordings are saved in Drive and can be shared with others.
As you can see, the powerful capabilities within Jamboard and Meet help you to hold effective brainstorming sessions even in a hybrid workplace.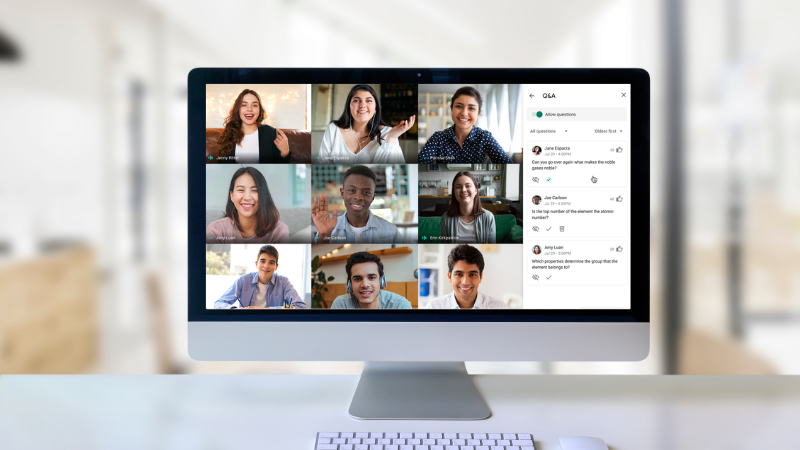 Working with a Google Workspace Premier Partner
Ancoris is only one of a handful of European Google Cloud partners with the Work Transformation Enterprise specialisation. Our deployment experts will help you make a smooth transition―for the technology and for the people using it.
A business is only as good as its people – so why not make them extraordinary? Empowering them to work better together not only unleashes their talent and creativity but makes them your competitive advantage. The modern, easy to use applications in Google Workspace make real-time collaboration a breeze. Combine Google Workspace with Chrome Enterprise and you've got the most secure and mobile workplace.
To complement our technical service delivery consultants, we have a dedicated in-house change management and user enablement team to guide you through the process.
If you'd like to find out more about how we can help you to create your own digital workplace, why not take a look at some of our customer success stories or browse our resources. Needless to say, please get in touch with our team if you'd like more practical support and guidance.