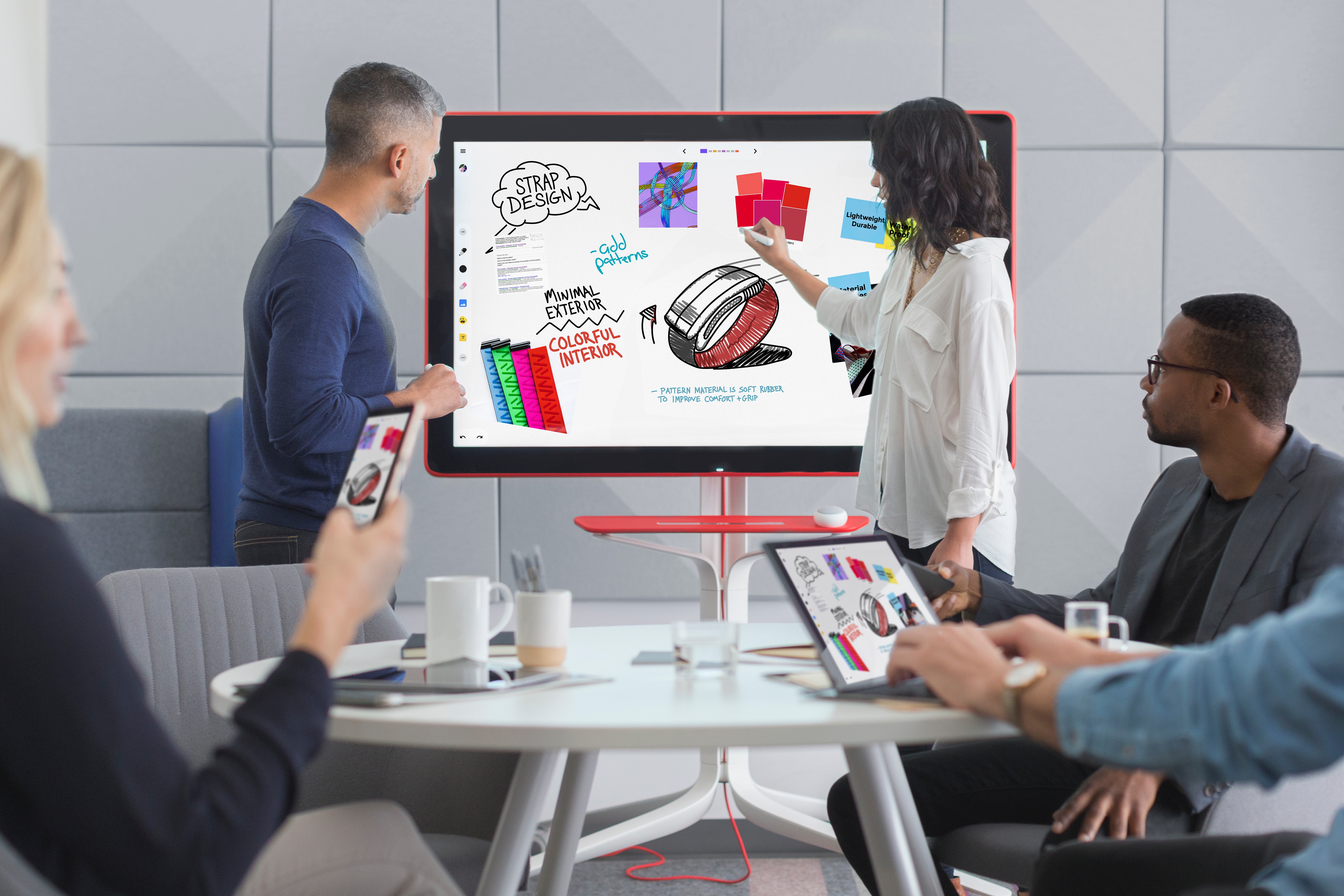 Innovation is key to future business success. Yet, even if you've embraced the idea of creating a digital workplace, you're probably still running brainstorming sessions with a whiteboard or a wall and people sitting around a table in a single room. The challenge of getting everyone together in one place for those meetings means you're almost certainly missing out on some potentially great insights.
It no longer needs to be this way. Google Jamboard is reinventing team collaboration by bringing the same real-time co-authoring capabilities that power G Suite to the humble whiteboard.
Through a combination of high-resolution, touch-sensitive displays and software, Jamboard helps your team brainstorm more effectively wherever they are: in the same room, or halfway around the world.
Take a look at this short video to see how our own DevOps team uses Google Jamboard:
Jamboard makes it quick and easy for your team to:
pull together all the content you need. You can grab images, text and files from the web and bring them straight onto the Jamboard, along with work in your Docs, Sheets, Slides and Drive.
join jams from anywhere, using the Jamboard app. Not only will app users see any changes made on the Jamboard immediately on their screens, but any edits they make on their devices are reflected in real time on the Jamboard display. The Jamboard app also lets you claim a Jamboard and start adding content from G Suite when you walk into a conference room.
write and draw just like you would on a conventional whiteboard, but turn your scribbles into readable notes and clear diagrams with handwriting and shape recognition. And because the Jamboard stylus is passive, you don't need to worry about running out of batteries (or finding your whiteboard markers are all dried out).
present jams in real time through Hangouts and save them to Drive once you're done, so you can return to them later or share them with others.
Jamboard can support up to 16 connections – phones, tablets or other Jamboards – at the same time, so there's no reason why your whole team can't get involved.
The Jamboard service is part of the core G Suite service, so it's covered under an existing G Suite agreement, offering the same technical support and service level commitments as any other core service. This means that you can also view your Jamboard service in your Admin console under your core G Suite services.
Ancoris is an official Jamboard reseller, as part of our G Suite offering. If you want to find out more about how Jamboard is redefining collaboration in the workplace, take a look at this short video or contact our G Suite experts.