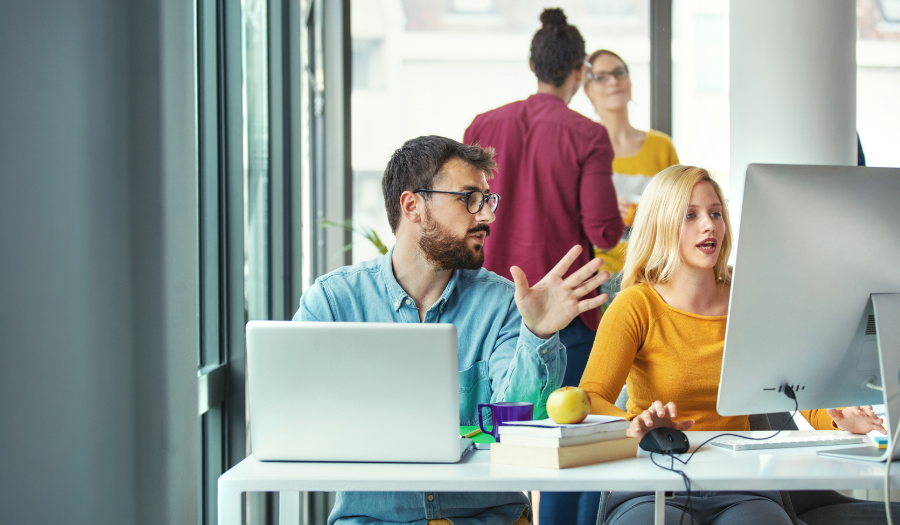 You already know Google Workspace gives you collaborative cloud tools — like Docs, Sheets and Slides — that improve team working and innovation. But did you know that Google Workspace also includes a wealth of other tools and features — most at no extra cost — that have traditionally been provided by third-party point solutions?
Instead of forcing users to fire up different apps to handle common tasks, Google Workspace gives them everything they need to get all their work done — all in one place. The added benefit for the IT department is that switching to Workspace will simplify your application estate and save you money on software licences.
Here are some of the areas where Workspace can handle tasks traditionally handled by point solutions.
1. Email
It may seem too obvious to mention, but with GMail sitting at the heart of Google Workspace, you can eliminate traditional desktop and on-prem email solutions like Outlook, Exchange, Groupwise and Lotus Notes.
There's the added benefit that, with on-prem email proving increasingly vulnerable to attack by hackers, moving to GMail should immediately improve the security of your operations.
Switching is straightforward: Google Cloud Partners like Ancoris have helped hundreds of customers successfully migrate their email with no downtime for users or loss of data.
2. Spam, antivirus and content filtering
Google Workspace uses machine learning — a kind of artificial intelligence — to automatically identify and protect users against emerging threats. It successfully blocks more than 99.9% of spam and business email compromise scams, while it provides a "security sandbox" that takes email protection to the next level, guarding against malicious embedded scripts and zero day threats.
It does this by virtually "executing" attachments in a private, secure sandbox environment to understand their effect on the operating system and quarantines them if it finds malicious code. That means threats never reach users' inbox — and you don't confuse users with warning messages from third-party tools like Ironpoint, Proofpoint, MessageLabs and Barracuda.
3. Data Loss Prevention (DLP)
You can stop users sharing sensitive data such as customer details or confidential project documents with the wrong people with Google's DLP solution. Fully integrated with Google Workspace, DLP lets you set up policies to either block the action entirely, warn the user (they may have accidentally picked the wrong email address) or isolate the incident.
You can choose from a library of pre-defined content detectors and create custom rules. Once you've set up your policies, it all happens seamlessly — with a familiar interface for users — and is an effective replacement for dedicated tools like McAfee Skyhigh, BitGlass, Symantec DLP and Bettercloud.
4. Instant Messaging and Company Social Networks
You can use Google Chat to send direct messages, hold group conversations and even set up dedicated chat rooms with multiple threaded conversations. It's easy to start a new conversation from within GMail; you can see past conversations; and it takes just a click to switch to email, video, voice or commenting in a shared document.
If you want to build a wider community to connect colleagues, share news and ideas, and get feedback, there's Google's social media app, Currents. It provides a personalised home stream for each user, as well as the option to follow particular tags or search for information. So there's no need for your users to switch to Teams, Slack, Skype, Lync, Yammer or Chatter to get the discussion going.
5. Videoconferencing
Enterprise-grade videoconferencing is just a click away with Google Meet. Not only does Meet keep your meetings secure, with an array of anti-abuse measures switched on by default and meetings encrypted in transit, but it's simplicity itself to use.
You just set up a meeting and share a link, with no need to worry if participants have an account or the right apps or plugins installed. There's no need install and manage standalone tools like Zoom or Skype on users' devices or to pay extra for the unlimited "business" version.
6. Cloud storage and Content Management
With Google Drive, you can store all your files in one secure place, access them from any device, and share them with just a couple of clicks. To simplify team working, Shared Drives ensure everyone working in a team or on a project has access to the same information, while powerful search facilities help you find what you need.
So there's no need to deploy standalone tools like Box and Dropbox or struggle with managing and sharing files in Sharepoint or Windows file shares.
7. Retention and eDiscovery
Google Vault makes it easy to set up retention rules and make sure data is archived from the email, cloud storage, instant messaging and VoIP apps in Google Workspace, including for suspended accounts. If your legal team needs to find specific information, they can easily search your archive and export data into a range of standard formats.
Vault is included with the Business and Enterprise versions of Google Workspace at no extra cost, so your retention and discovery needs can be met without added complication and expense of tools like Symantec, eVault and Mimosa.
8. Online forms, surveys and questionnaires
Google Forms makes it easy to create and share custom forms and questionnaires. You can choose what type of question you want with a click, use drag-and-drop to change the order of questions, and limit the values that can be selected by pasting in a list. Then you just need to share the link to the form in an email, on a website or through social media. Data is sent to a Google Sheet, where you can see an automatic summary of the data collected so far or dig into it in more detail.
There's no need to turn to third-party tools like SurveyMonkey or TypeForm to create professional looking surveys for customers or easy-to-fill e-forms for internal use.
9. Custom app development
Apps Script is a low-code environment that lets users build custom solutions on top of Workspace without the need for professional development expertise. You can automate routine tasks like mail merges by linking together GMail and data held in Sheets. You can create an app that lets people sign up for sessions at an event — and then receive a personalised itinerary by email — by bringing together features in Sheets, Docs, Forms and GMail. You can even analyse unstructured data, such as open-ended feedback, by linking data held in Sheets with Google's machine learning tools. You don't need to hire programmers and you don't need to pay for no-code development tools like Power Automate.
10. Endpoint management and security
The Admin Console in Google Workspace gives you powerful tools to manage user devices remotely, whether they're running Android, iOS, Windows, Chrome OS, Mac OS or Linux. You can enforce security policies such as screen locks and strong passwords, wipe a device remotely if it's lost or stolen, and make sure specific apps and extensions are installed.
There's no need to install anything on the device, and integration with Google Cloud Identity allows you to set up options like 2-step verification and security keys. All of this means you don't need to install third-party endpoint management tools like AirWatch, MobileIron or XenMobile to keep control, or to run Active Directory or other identify management solutions like Okta and Ping.
11. VoIP telephony
This one doesn't come included for free with Google Workspace, but if you want your users to be able to take their office phone number with them wherever they go, without getting locked into costly, inflexible contracts with traditional VoIP providers, Google Voice is the answer.
Entirely web-based, it includes features such as call forwarding, hunt groups and multi-level auto-attendants — and, of course, it's closely integrated with the rest of Google Workspace. With per-month charging, it lets you immediately add or remove users, so you're only paying for the lines you need and not waiting several days for your provider to process a work order, and it offers competitive call rates.
Working with a Google Workspace Premier Partner
With all these extra features included as standard in most versions, Google Workspace provides integrated and cost-effective workspace that will help your end users and your IT team become more productive and effective, and save you money.
Ancoris is only one of a handful of European Google Cloud partners with the Work Transformation Enterprise specialisation. Our deployment experts will help you make a smooth transition―for the technology and for the people using it.
A business is only as good as its people – so why not make them extraordinary? Empowering them to work better together not only unleashes their talent and creativity but makes them your competitive advantage. The modern, easy to use applications in Google Workspace make real-time collaboration a breeze. Combine Google Workspace with Chrome Enterprise and you've got the most secure and mobile workplace.
To complement our technical service delivery consultants, we have a dedicated in-house change management and user enablement team to guide you through the process.
If you'd like to find out more about how we can help you to create your own digital workplace, why not take a look at some of our customer success stories or browse our resources. Needless to say, please get in touch with our team if you'd like more practical support and guidance.