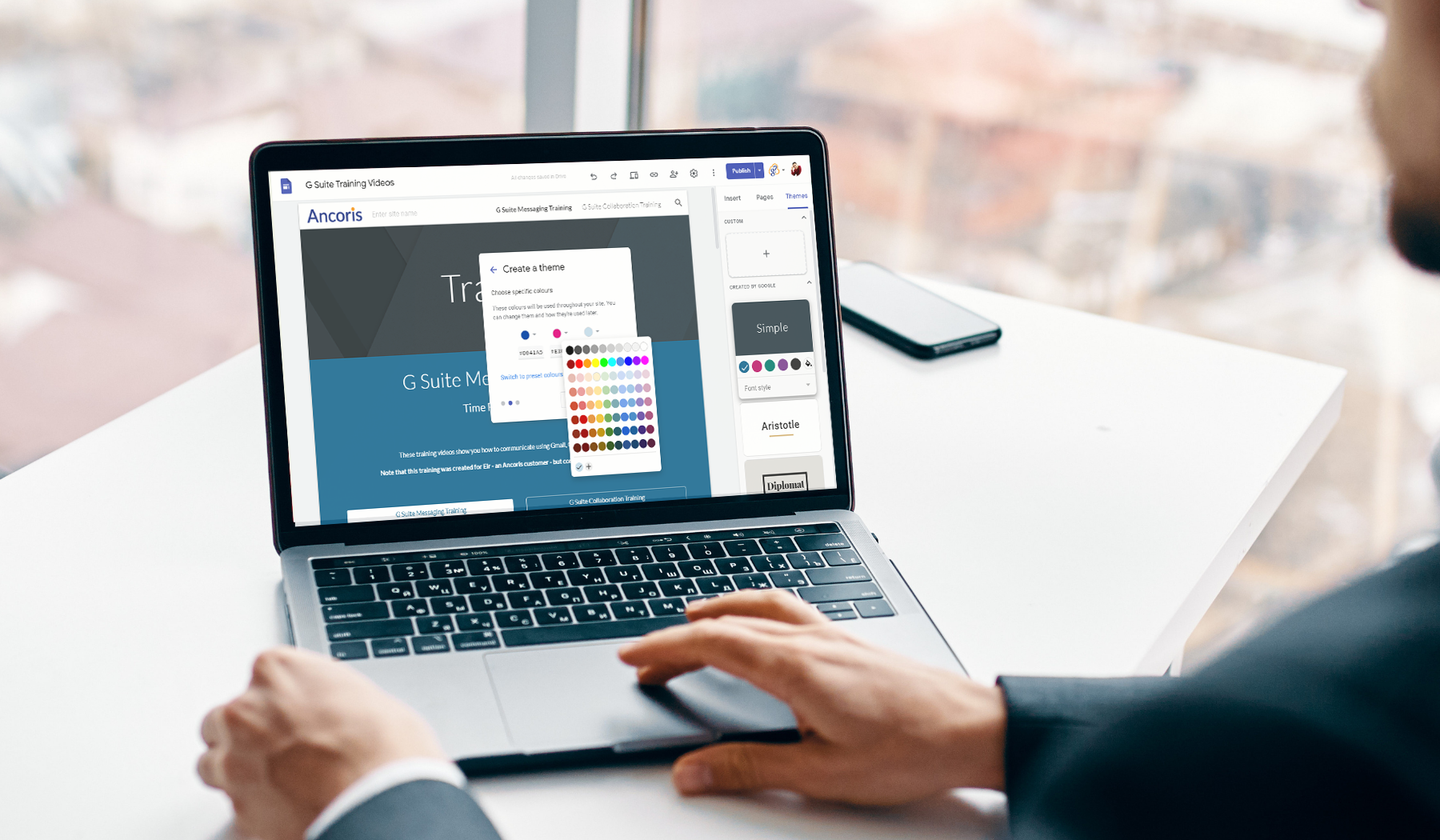 A few months ago, Google added the option of creating Google Sites templates, to make it easy to create a site based on your own layout. With the introduction of custom themes, this feature has become much more powerful, allowing you to control the branding and formatting of all new Google Sites that you create.
You can customise the theme of any site, but if you customise the theme of a template, you will be able to create a great looking site based on your own formatting standards whenever you need to.

What is a theme?
Each site in Google Sites is based on a theme that controls the look and feel of all pages in the site. The theme controls the colours used on all pages - for both text and backgrounds - as well as the image used in the header of each new page you create. The theme can also control the company logo displayed in the top-left corner of the site, and can even control the appearance of objects such as buttons and links.
Google Sites have always come with a choice of themes to apply to your sites, but they have always been limited in how they could be used - until now.
Customising themes
When you choose to customise the site theme, you'll be prompted for a theme name, then will be guided through the main options for the theme - including the logo, the default page banner image, the colour palette and the fonts you wish to use for your headings and body text.
Once the theme has been created, it can be customised further by changing all colours, text options, images, navigation options and the format of components such as buttons and divider lines.
Watch our how-to video for a step-by-step guide to customising themes in Google Sites:
Combining themes and templates
When you customise the theme of a site, you are only changing the site that you are currently working on. However, if you customise the theme, then save your site as a template, you can reuse the theme anytime you need to create a new site.
The Google Sites home page now shows a link to the Template Gallery, which shows the standard Google templates available to use as a starting point for creating a new site. There is now a tab for your domain, and if you have the correct permission in Google Workspace, you will be able to submit templates to this tab for your colleagues to access.
Watch our how-to video for a step-by-step guide to creating custom templates in Google Sites:
Working with a Google Workspace Premier Partner
Ancoris is only one of a handful of European Google Cloud partners with the Work Transformation Enterprise specialisation. Our deployment experts will help you make a smooth transition―for the technology and for the people using it.
A business is only as good as its people – so why not make them extraordinary? Empowering them to work better together not only unleashes their talent and creativity but makes them your competitive advantage. The modern, easy to use applications in Google Workspace make real-time collaboration a breeze. Combine Google Workspace with Chrome Enterprise and you've got the most secure and mobile workplace.
To complement our technical service delivery consultants, we have a dedicated in-house change management and user enablement team to guide you through the process.
If you'd like to find out more about how we can help you to create your own digital workplace, why not take a look at some of our customer success stories or browse our resources. Needless to say, please get in touch with our team if you'd like more practical support and guidance.