We are immensely proud to be the winner of Computing Vendor Excellence Award 2016 for Ancoris Maps for Housing, our online property visualisation solution designed specifically for Housing Associations.
The data visualisation award category had very strong contenders this year, including Tableau Software and Mosaic Smart Data and we are delighted to have impressed the judges. They were looking for the vendor demonstrating that they can turn the numbers into clear understanding and actionable insight without needing excessive interpretation.
Ancoris Maps for Housing combines operational data with location data in a familiar Google Maps setting, in a way that is accessible to every member of staff within an organisation. It makes understanding simple, so that all stakeholders, from rent officers to board members, can see what needs to be done.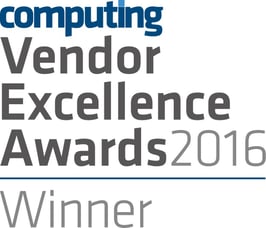 Our submission used a customer case study to demonstrate how the SaaS application delivers tangible business benefits:
Improves productivity: Assigns officers and maintenance crews the optimum geographic area to improve travel planning, and provides information on other tenants who could be visited in the vicinity. This increases the number of daily tenant visits officers can make and improves time management.
Provides real time information to tenants on repairs to make sure maintenance staff only make visit when they are at home. Helps allocate the right tenant to the right property, matching individual needs to facilities in the area.
Helps reduce rent arrears by spotting trends and enabling housing provider to run campaigns in hotspots and work with tenants to improve their situation, reducing future voids.
Improves safety by providing means to effectively carry out gas safety checks. Officers can filter the map to locate gas safety checks that are already invalid or about to become invalid. If they are in the field, this information can be accessed for properties nearby and a call to the tenant can be made right there and then.
Improves internal and external communications, providing tools to monitor location and status of staff, whilst also providing means to provide faster more regular updates to tenants.