We are delighted to be the winner of the Digital Transformation Project UK Cloud Awards 2016 for our work with Waterloo Housing.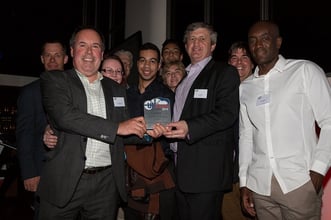 Housing associations face immense financial pressures as a result of the Government's welfare reforms and recent budget announcements. We have found that, faced with this combination of challenges, housing associations need to review every aspect of their operations and transform themselves. Their goal is to become more efficient and more agile in their own operations, and improve the way they collaborate with tenants and partner organisations to meet their social goals.
It is in this context that Waterloo Housing started their own digital transformation project. The initial requirement was to replace the organisation's ageing Microsoft Exchange email system with a new cloud email and collaboration suite. With 450 staff at three offices or working remotely, giving everyone the same level of access to their email, contacts, calendars and files, no matter where they were or whether they were using a computer or a smartphone became a stress point.
Google Apps was selected as the email and collaboration platform and Ancoris as the deployment partner. When the Google Apps project was completed in late 2014, better ways to manage their disparate workforce, manage operations and serve more tenants at lower costs became apparent. Existing offerings failed to meet all their unique needs. Housing is so personal, they wanted a solution that would also enable them to deliver a better service.
The second stage of the transformation came about because a solution to enable staff to visualise data on a map would help manage properties and make smarter decisions. It was becoming obvious that the lack of visual housing data was hampering growth and efficiency.
The need was to visualise and bring together data from multiple systems, such as housing management system, repairs, CRM and other third party data such as boundaries and demographics. Ancoris developed Ancoris Maps for Housing, a solution that allows users to filter and search data, show heat maps and get best routes for field worker visits. The online application which uses Google Maps has the potential to drastically change the efficiency and outputs of housing associations.
The goal of any digital transformation is to simplify processes and enable better decision making across the organisation. It also gives the opportunity for the organisation to reinvent some of their processes and become more responsive and agile. We hope that this award winning project will give other housing associations a new perspective and inspiration for their future, showing them how it is possible to reduce costs, but not at the detriment of their tenants who remain at the core of everything they do.