Net zero is no doubt a vital topic within your business right now. Whether it's energy efficiency, carbon neutrality, reducing landfill waste or more responsible use of resources, many companies are facing similar challenges to try and reduce their greenhouse gas emissions.
One key initiative that can result in a sea change within an organisation is the adoption of cloud computing — specifically a cloud platform powered by renewable energy sources, such as the Google Cloud Platform.
Aside from the operational benefits of using the cloud, this article will dive into some of the environmental advantages to help you understand how the cloud can drive change within your business.
What are the advantages of clean cloud computing?
Cloud offers unrivalled flexibility and accessibility for today's evolving workforce. With remote working the 'new normal' in light of the Covid-19 pandemic, cloud solutions allow seamless collaboration for teams regardless of location.
However, by choosing a cleaner cloud platform, businesses can enjoy even more advantages.
Here are some of the benefits of implementing or migrating to a clean cloud solution.
1. Better energy efficiency
It goes without saying that having data stored in a virtual environment reduces the need for physical locations and on-premises data centres. That also greatly reduces the requirement for energy
consumption; from powering servers to physically running a storage facility. A clean cloud environment further enhances that by using renewable energy sources, meaning your operations are more efficient.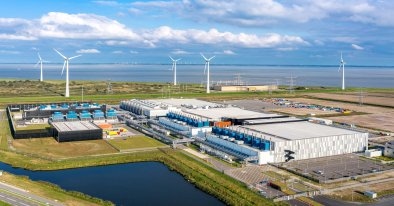 Google's data centres run on renewable energy sources, with smart initiatives in place to reduce overheads (i.e. energy and costs associated with the physical running of the buildings themselves). This therefore provides businesses with a badge of honour in operating using the cleanest provider.
2. The opportunity to go paperless (or reduce consumption)
One of the biggest environmental factors that traditional offices and workplaces have faced is the usage of paper. Reports being printed, memos being sent round, internal records being kept… ad infinitum. The environmental impact here is the wider implications on the world's tree reserves, with deforestation a constant threat to wildlife and Earth's future. A paper trail also has its other costs; ink and toner, electricity to power printers, the need for regular servicing, repair and maintenance.
In many ways, the cloud has drastically reduced the need for paper documents - the beauty of having files and systems stored in the cloud is that they're accessible from anywhere, anytime. There's also no need for the energy-consuming tasks of disposing of and recycling paper that's no longer required.
3. On-premises cost savings
Energy savings means cost savings. By reducing the need for on-site energy, you'll reduce energy bills and costs. And there are further benefits to cloud computing; with savings on paper, ink and the like, you'll reduce expenditure on typical workplace paperwork.
You may also find that with wider possibilities around remote working, further cost savings may come in the form of reduced rent or savings on office space. Could your business downsize or even do away with a physical space altogether? As the move to hybrid and remote working has shown, the cloud is an integral cog in the new world way of working.
4. A reduced carbon footprint
Of course, reducing on-premises energy consumption has a great impact on a business's carbon footprint. By reducing energy usage on-site, you reduce the direct impact on the planet. By moving to a clean cloud provider, that footprint is even less impactful, helping to further reduce CO2 emissions and your business's contribution to the climate emergency.
5. Building trust with staff and customers
Consumers are increasingly eco-aware, and brands are now being held accountable for their energy credentials. In fact, a third of consumers have stopped buying from a particular company because of sustainability or ethical concerns. Being able to prove your eco-friendliness is therefore a real feather in the cap for businesses. More than half (51%) of Europeans also believe that responsibility for tackling climate change should fall with businesses and industry.
Alongside that, eco-friendliness is also an attractive perk for employees. By having a clean cloud solution in place, businesses can attract talent through their proactive approach to net zero.
Switch to a cleaner cloud platform with Ancoris GreenLab
Ancoris GreenLab helps business leaders contribute to their organisation's energy efficiency goals by providing insight into the carbon impact of on premise and hosted datacenter deployments.
As a Google Cloud Premier Partner with over a decade of experience working with Google, our team of specialists can help you leverage Google Cloud to transform into a more eco-aware, flexible, and scalable organisation.
We'll help you understand:
The transformation and modernisation opportunities that can be achieved with Ancoris and Google Cloud Platform
What the financial and technical plan for migration to Google Cloud Platform, the cleanest cloud, looks like
How a cloud migration can not only make your company more efficient, but also make a big dent in the carbon footprint of your technology stack
Ready to learn more? Get in touch with our Cloud Modernisation team and discover how GreenLab can support your efficiency and net zero goals.