In a previous post, we discussed how location should be central to your omnichannel strategy. A very powerful tool to take your personal 1 to 1 marketing to the next level includes mobile and geofencing technology. This allows you to send targeted advertising and personalised offers based on location using Google Maps. When geofencing is used correctly, it can double the ROI of your marketing campaigns and increase brand awareness and customer loyalty. It can be targeted at specific individuals who receive locally-targeted, relevant content at times most beneficial to them.
What is Geofencing?
Geofencing is a form of mobile marketing that involves setting up a virtual perimeter around a physical space such as a retail store or place of interest. When a customer enters the "geofence", retailers can send them a text messages or push notifications if they have opted in to receiving special offers.

This gives the ability to send highly targeted one-to-one advertising such as special offers related to location. Geofence solutions can be integrated into your current mobile applications or new specialised applications can be developed or can even work with the collaboration of a mobile network for pure text messaging alerts without an application.
Using geofences in Retail Omnichannel
Geofencing has the potential to help retailers connect with customers and increase footfall, customer loyalty and brand recognition. By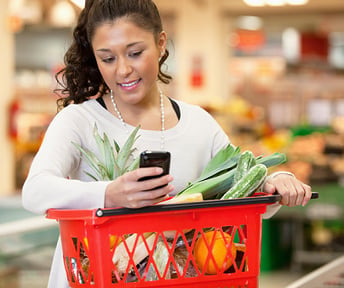 personalising and targeting offers based on what we know about customers, we can make sure we stay relevant and show we understand our customers' needs. Although this represents best practice to run an omnichannel campaign, you can also send more generic content and offers to help drive new customers to your brand.
Research has shown customers are becoming more comfortable with this type of advertising. A recent study showed 51% of 18-34 year olds were "somewhat / very comfortable" compared with 27% of those in the 55+ age group.
So long as the focus and outcome of geofencing campaigns stays customer centric, personalised and beneficial and it forms part of your overall omnichannel location strategy and does not slip away from these customer centric goals, geomarketing can be used as a beneficial tool to engage with customers. One of the most important things here is to make sure that messages are not sent too often to avoid annoying your users and that a good balance is found between number of messages and relevance to the user.
Examples of geofencing in Retail
1. Gap Clothing
A good example of a successful geofencing campaign was run by GAP clothing stores. They placed geofences around bus stops close to some of their largest stores that also had physical ads within the shelters. Knowing the popularity of the Words with Friends mobile game with their customers, people playing the game while waiting for the bus would see a GAP coupon offer. This resulted in a .93 click-through rate (compared to the .20 industry standard). This example shows how geofencing can be used alongside other marketing tools such as the physical advertising for greater emphasis and within mediums such as games that many of your customers are already interacting with.
2. Meijer Inc
Meijer Inc., a US chain of supermarkets has also successfully used this technology within its stores to make the shopping experience personalised over multiple channels. They use in-store sensors to offer customised information and virtual coupons through mobile apps. Customers who prepare shopping lists online can also open up the retailer's app inside the store, and the app reorders their list based on their location in the aisles, speeding up the shopping process. Coupons and weekly specials also appear based on their previous preferences and location. This is a really nice example of omnichannel in action, going from one medium to the other with a seamless experience and using location to send personalised and relevant offers to shoppers.
3. Coca Cola
Another fantastic example with a slightly different spin was a campaign run by Coca-cola in Israel. Here customers who had purchased a coke during their "share a coke" campaign that allowed people to personalise cans and bottles of coke with their name and had downloaded a specialised app would have their names displayed on a billboard as they approached it. The app was the number one rated app in Israel after the first day of release and stayed in this position during the entire campaign with more than 100,000 downloads. This is a great example of using geofences not for sending promotions but rather to engage and interact with customers to build your brand image and personalise the customer to brand experience that is the holy grail of omnichannel retailing.
Why geomarketing is crucial to omnichannel
Geofencing can be used to send the right marketing message to the right person in the right location at the right time. This can have a significant impact on the effectiveness and outcome of your marketing activities - Helping to engage with current customers to maintain their loyalty and win new customers to your brand and store.

When used alongside other omnichannel tools the customer impact can be even greater, combining the geofencing campaign messaging with a sophisticated locator to give directions to the customer on how to get to the your store for example. As long as your marketing messages are compelling to customers with great offers, with products of interest to them in the right context, geomarketing will help make your business expand and become more profitable.
Working with a Google Maps Premier Partner
A Google Cloud Partner like Ancoris can help you apply the power of Google Maps to solve current business challenges and develop new digital models using location-based services.
We're not only a Google Maps Premier Partner but have achieved Google's Location-Based Services Partner Specialisation. This means we've demonstrated both technical proficiency and proven success in building and managing applications using the best of Google Maps Platform and Google Cloud Platform in both web and mobile environments.
If you'd like to find out more about how we can help you, why not take a look at some of our customer success stories or talk to the experts in our Google Maps team.
Article updated February 2021
First published November 2014