Getting customers excited and talking about your brand can be tough. The modern consumer has a short attention span, expects more and is generally tough to engage with. It can however be surprising what small things can end up working and becoming a hit with customers. Using mapping technology, maybe surprisingly, is one way to do this. It may not be the most obvious way to try and get your customers attention but it can be very effective and help you stand out and win the loyalty of some of the toughest customers.
How to build brand engagement with mapping technology
Developing interesting applications that customers find engaging and want to use because they are fun or do something different from other sites can help build your brand image, create hype and get more people using and interacting with your offering. These types of applications if done correctly can be one of a marketeers best assets. The applications do not have to be obviously selling or advertising but rather be seen as something that is interesting and fun. Having said that they can include a direct call to action or be part of your main marketing message.
So has this worked in the past and what type of applications am I talking about. Well yes, it has worked and there are some really good examples of companies who have used these type of applications really successfully.
Coca-Cola Israel uses geofencing mapping technologies
One really successful example of this in action was a campaign run by Coca-cola in Israel.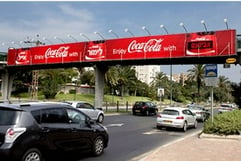 Coke developed a mobile application as part of their "share a coke" campaign that allowed people to personalise cans and bottles of coke with their name. The application allowed users to enter their name into the app and then when they approached certain billboards their name would be displayed on the board. This used the location of the mobile device and Google geofencing mapping technology to detect when people were near the signs. The app was the number one rated app in Israel after the first day of release and stayed in this position during the entire campaign with more than 100,000 downloads. It was a hugely successful campaign that really caught the attention of the public.
British Airways uses Google Street View for TV adverts
Another hugely successful campaign was run by British Airways. They created an interactive version of one of their TV adverts that shows aircraft passing through the streets of London, where people can make a jumbo jet taxi down their own street. This functionality was developed using Google Street View imagery.

Over 100,00 people viewed their own custom version in the first few months of the campaign, making it one of the most successful ever interactive social media advertising campaigns. The airline's digital marketing manager Richard Bowden said: 'The advert has an interactive feature which has proved extremely popular. 'Tens of thousands have customised their own versions. It has created a real buzz".
Nike+ allows users to create running routes on a Google Map
Nike is also using mapping to interact with customers through its Nike+'s Places application. This allows runners to explore and create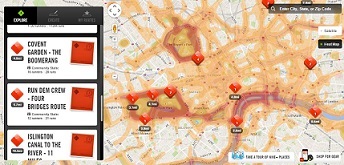 running routes on a Google Map. You can create your own route or view others, then head out and run them with a Nike+ GPS device, if you have one.
You can collaborate with other runners on times and find out where other people are running and try and get on the leaderboard for that route. There is even a heat map that shows the most popular running locations in your area. We like this use of mapping to create a community and give your customers something a little bit extra to go with your products. Something like this can be used as an additional selling point and really make you stand out from the competition.
Rentokil delivers greater customer satisfaction with geolocation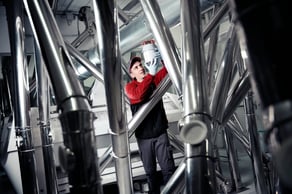 One of our own customers, eRentokil, has used APIs to bring together various cloud-connected resources to create an Android-based app that gives the company's 14,000 pest control technicians a digital floor plan for each site, complete with up-to-date information on which pest control products have been installed and their precise location. The app combines off-the-shelf solutions for creating and viewing floor plans, and for reading QR codes and barcodes on pest control products, with APIs for Android capabilities such as SatNav, Photos, Geolocation, GyroScope and Speech to Text.
By replacing unreliable paper-based floor plans and cumbersome back-office systems with the app, the company has been able to increase the efficiency of its operations and improve customer and employee satisfaction.
It can also now send technicians with no prior knowledge of a site and deliver the same quality service, helping it deploy its workforce more flexibly. Finally, the app is delivering a competitive advantage in this highly regulated market by providing the foundation for Rentokil's Digital Pest Control vision: linking to the company's PestConnect IoT solutions to create an end-to-end digital ecosystem.
Why you should consider Google Maps when building your brand
So some of the most well known brands are using maps to engage with customers. They have come up with interesting and in many cases unique ways to use maps. We believe there is lots more potential out there in just about every industry to create something using Google Maps APIs that will get people talking about your brand and wanting to use your site.
Being able to differentiate yourself from the competition and make customer connections is critical to modern retail success. In an era of constant price reductions and widely publicised promotions, retailers need to think beyond discounting to differentiate themselves from the competition. Using Google's mapping tools can help to get people interested and therefore talking about your brand and relaying to others how engaging and innovative their experience was when dealing with your company.
Working with a Google Maps Premier Partner
A Google Cloud Partner like Ancoris can help you apply the power of Google Maps to solve current business challenges and develop new digital models using location-based services.
We're not only a Google Maps Premier Partner but have achieved Google's Location-Based Services Partner Specialisation. This means we've demonstrated both technical proficiency and proven success in building and managing applications using the best of Google Maps Platform and Google Cloud Platform in both web and mobile environments.
If you'd like to find out more about how we can help you, why not take a look at some of our customer success stories or talk to the experts in our Google Maps team.
Article updated January 2021
First published February 2015