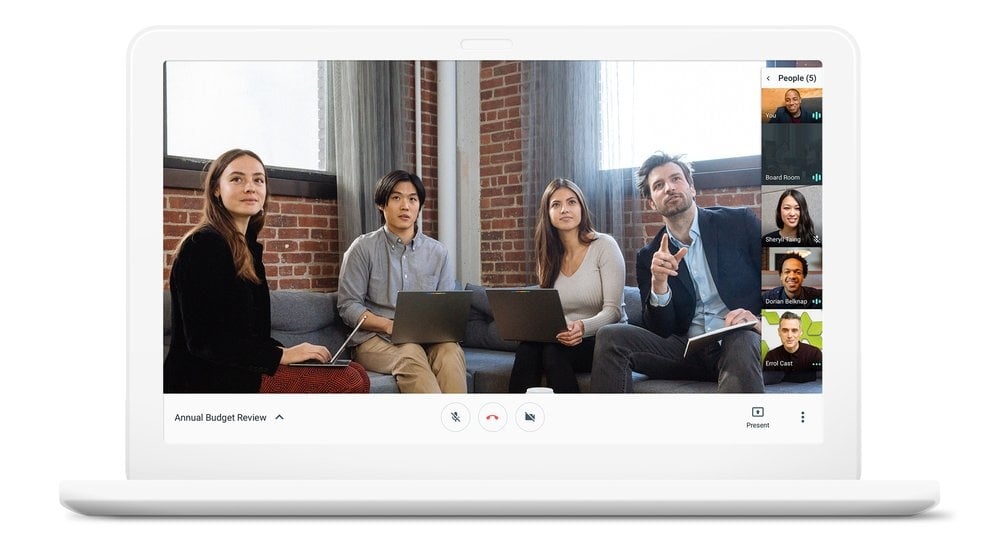 If you're an Outlook user, you can include links to Google Meet in your calendar invitations, using the Meet add-on for Outlook 2016, 2013 and Outlook online.
You can also use this add-on if you use Outlook 2016 for Mac.
Adding Google Meet links to Outlook
In order to add Google Meet links to your Outlook calendar events, you will need to install the Meet add-in as follows:
Click on the Get Add-ins button on the Home tab on the ribbon




Search for Google Meet
Click on the Add button under the Meet add-on




Click on Continue to install the add-on



Now, when you create a new calendar event in Outlook, you will have the option to include a Google Meet link in the event.
To add a Meet link, click on the Hangouts Meet button on the ribbon, then choose Add a meeting.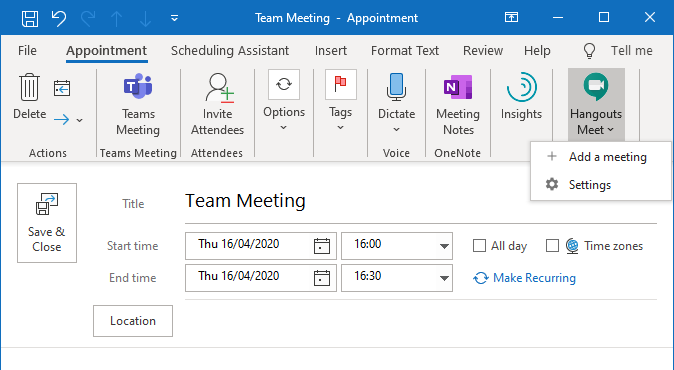 The first time you add a Meet link to an event in Outlook, you will be prompted to sign in using your Google Workspace (Formerly G Suite) email address and password. You will also need to enter a 2-step verification code if this has been enabled on your Google Workspace account. After entering your credentials, click on Allow to allow the add-on to manage your meetings.
Once the Meet information has been added to your Outlook event, you can save the event or invite other people as required. Everyone invited to the meeting will see the Meet information and will be able to click on the link to join the meeting - both from Outlook on their desktop or online.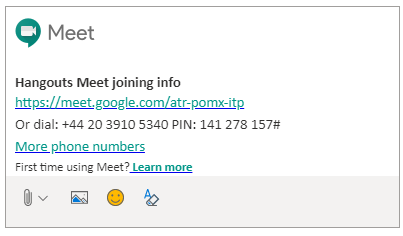 Note that you will need a Google Workspace account in order to be able to add Meet links to calendar events. You can invite non-Google Workspace users to meetings, including users outside your domain, who will need to request to join the meeting once you have started it.

Other ways to share Google Meet links
Each Google Meet meeting that you create has a permanently-available, unique link or URL which, once generated, can be re-used for recurring meetings and shared with others by adding the link to a document, email message, instant message etc.

In any Google Meet meeting, you can view the unique meeting link by clicking on the Meeting Details drop-down arrow in the bottom-left corner of the screen: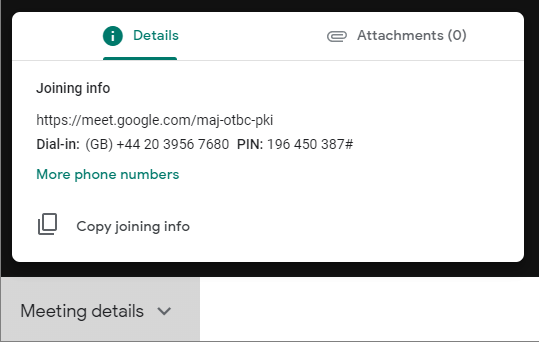 Anyone can join the meeting by typing meet.google.com/ followed by the unique 3-4-3 character code for your meeting. Users on your domain will be able to join the meeting directly, but those outside your domain will need to be admitted after requesting to join.

For more information about Google Workspace licensing, pricing or general enquiries please click here to speak to one of our experts.
Updated 23 October 2020
First published 17 Nov 2018