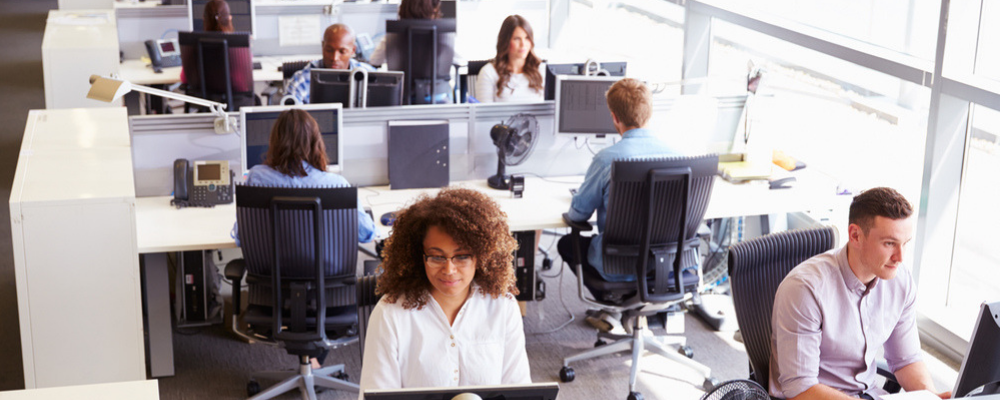 Companies that are able to exploit their existing knowledge effectively – to find relevant work by colleagues in other departments or past proposals, plans and analysis – are more successful than those that don't. A study in the Harvard Business Review found that profit margins in digital leaders are 50% higher than in digital laggards.
Yet many enterprise content management (ECM) solutions don't deliver the promised benefits. Studies by Forrester found 40% of companies report issues with adoption and only 36% are satisfied with their systems. That's because traditional ECM solutions are:
Hard to adopt: users have to learn new tools that often aren't intuitive.
Restrictive to use: users are forced into rigid processes that may not suit the way their team works, especially if they need feedback and approval in a hurry while colleagues are out of the office.
Require manual labour to achieve the promised benefits: rather than enjoying a seamless digital workplace, users must add metadata to categorise files, store them in exactly the right place, manually grant access, or spend time searching in multiple places.
Priced so it's hard to achieve a good ROI: pricing is typically per registered user, so the promised benefits rely on very high levels of adoption.
But switching to a new solution feels difficult. There's the hassle of migrating. Your users are familiar with the current system, even if it isn't working well. Budgets are tight. And will a new system be any better, anyway?
That's where Google Workspace Essentials (Previously G Suite Essentials) comes in. The basic version packages together Drive, Docs, Sheets, Slides, Forms, Sites and Keep, as well as Admin consoles to help you manage users and security, and Meet for video conferencing. With the Enterprise version, you get access to additional features in Meet and Drive, as well as Vault for archiving and e-discovery, and the ability to manage user devices.



So how does all that help you with your content management challenges? Here are just 8 ways you'll benefit:
It handles your existing apps, systems and business processes.

Google Workspace Essentials works with the software you already use. It lets you easily open and comment on Office files and work seamlessly with colleagues who are still using the desktop version of Office apps. In fact, besides Google Workspace and Office files, Drive can handle more than 40 different file types.


It's designed to keep content and teamwork flowing smoothly. Any user can request input or approval on any file, and users can comment or approve from any device — mobile or desktop. So approvals fit into the rhythm of your team, even if you're on an urgent deadline or colleagues are out of the office. All that helps you to move projects forward more quickly.



It's fast, seamless and easy to use

. Google Workspace Essentials runs on the same scalable infrastructure that supports billions of Google users every day, so you know you'll get fast, reliable performance. Beyond that, an intuitive user interface and features like Quick Access and the Priority page help users focus on what matters. The Quick Access area puts the files users are likely to need front and centre, typically cutting the time users take to open the right file and start work by 50%. The Priority page uses machine learning to identify patterns in what teams and individuals are working on and flags up important and relevant content for each user, as well as showing you files that need your attention or approval.


It helps your employees work more intelligently than they thought possible. Users can easily search their files in Google Drive to discover relevant content, and can filter by collaborator or document type with two mouse clicks. Workspaces let users gather all the content for a project in one place. Google Workspace Essentials can even suggest Workspaces that users might want to create, along with the files they should include.


It can be trusted with your most important information. You benefit from advanced access controls that not only let you manage who can see a file but also whether they can download, copy, print or share it externally. Pincode sharing lets users without Google accounts view, comment on and edit files, with all changes properly attributed. For admins, the Security Centre offers best practice recommendations, actionable insights and integrated remediation, from a comprehensive dashboard.



It meets the demands of regulators

. Google Workspace Essentials is compliant with GDPR, with features like the ability to specify where your data is held and processed. Tools like Vault eDiscovery and archiving ensure you can find and preserve all necessary records for legal and regulatory purposes, with a full audit trail. And Data Loss Prevention (DLP) tools automatically identify and redact sensitive information.


It's easy to adopt, providing an easy transition from your existing platform. Google Workspace Essentials is a standalone product, so you don't need to go through the upheaval of moving away from your existing email and desktop tools to change your ECM. And because it builds on all of Google's expertise in creating intuitive user interfaces and support for collaboration and team working, users find it easy to learn.


It's cost effective. Your monthly charge is based on both the number of users and the volume of data stored — but you only pay for users who are active. Google estimates 98% of companies will pay less with Google Workspace Essentials than with other ECM platforms, and that they can save anywhere between 15% and 80%.
If you'd like to find out more about how Google Workspace Essentials can provide an easy path to better content management, come and talk to our Google Workspace experts.
Article updated February 2021
First published July 2019