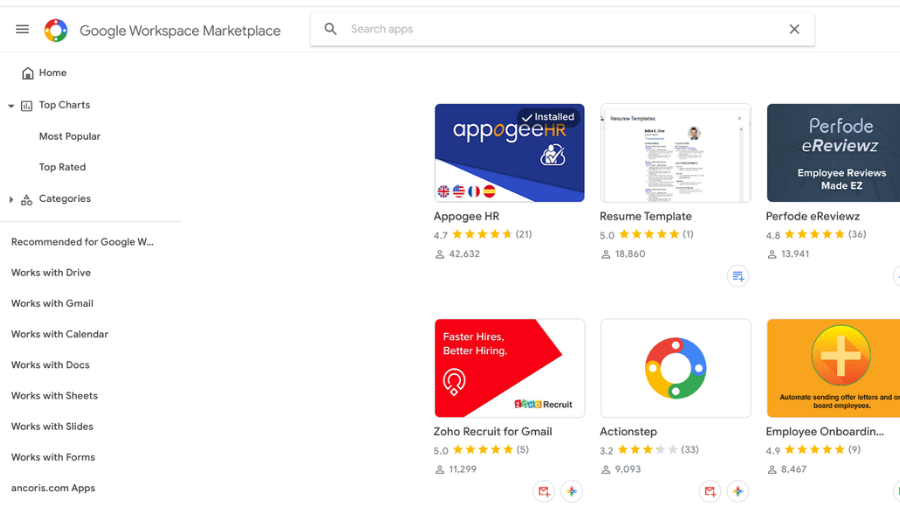 The roots of cloud computing — in the form of Software as a Service (SaaS) — were all about the efficiencies of providing access to a set of standardised business applications like Google Workspace or Salesforce. Today, cloud computing is about delivering digital transformation of the entire business through unique cloud ecosystems that bring together a mix of standard, specialised and custom applications to address the particular needs of your organisation.
Creating that unique ecosystem might seem like a tough challenge. Here are the top 5 reasons why we think Google Workspace Marketplace makes it easy to create an ecosystem that is a perfect fit for your organisation.
1. Apps for every business need
With Google Workspace Marketplace, you can provide users with access to a wide range of quality enterprise apps that add to and complement Google Workspace own apps. This includes:
Add-ons for Google Docs, Sheets, Slides and Forms to handle tasks such as mail merge or to help you create beautiful charts from your data.
third-party apps for areas such as enhanced security and compliance — being able to encrypt and share sensitive documents securely through GMail, for example — or employee management.
cloud-based access to legacy systems.
Ancoris has experience with a wide range of the tools available in the Google Workspace ecosystem, so we can help you choose the best apps for your specific business need.
2. Fast, easy installation
Users can quickly search for relevant apps and install them with just a few clicks. You can control which apps users can install for themselves using the Google Admin console. You can turn them on and off for the whole domain, make them available for just particular groups of users, or whitelist only those apps you want users to be able to install.
You can also install apps for everyone in your entire domain or an entire user group, so they all automatically have access to them, with no need for users to install those apps themselves. And whenever you install a new app, you can notify users that it's available.
3. Fast, easy access for users
Once an app is installed, your users can open it easily and quickly. Add-ons for Docs, Sheets, Forms and Slides can be opened through the Add-ons menu.
If an app creates a special type of file format — such as a flow chart file — you can use the New button in Google Drive to create a new file of that type. You can also open an existing file by right clicking on it and selecting the associated app from the "Open With..." option.
And you can always find installed apps by clicking on the Google Workspace icon in the top right-corner of your screen and scrolling down.
4. Custom apps for your business
Google Workplace Marketplace makes it easy to deploy custom apps — created using cloud tools like Google App Engine, Apps Script or BigQuery — that support specific processes in your business.
These apps can be developed by your own in-house team or in partnership with cloud and mobile application developers like Ancoris. Once they're ready to be deployed, you simply add them to your marketplace and install them for the relevant users in your domain, just like any other Marketplace app.
5. Easy to evaluate against your security policies
The majority of apps in the Google Workspace Marketplace are provided by third-party developers. App developers must adhere to Google Workspace Marketplace listing requirements and program policies, including Google Developer Agreement.
This requires developers to clearly present the terms under which they offer their services, including the privacy policy and deletion policy for each app. Once you've installed an app, you can then use the Google Admin Console to see a summary of the data that app has access to.
Many of our customers have already used Google Workspace Marketplace to create a cloud ecosystem that streamlines their operations and allows them to become more collaborative and innovative, as well as more efficient. If you want to accelerate your digital transformation efforts and get the most out of your investment in Google Workspace, the Google Workspace Marketplace is definitely worth a look.
Working with a Google Workspace Premier Partner
Ancoris is only one of a handful of European Google Cloud partners with the Work Transformation Enterprise specialisation. Our deployment experts will help you make a smooth transition―for the technology and for the people using it.
A business is only as good as its people – so why not make them extraordinary? Empowering them to work better together not only unleashes their talent and creativity but makes them your competitive advantage. The modern, easy to use applications in Google Workspace make real-time collaboration a breeze. Combine Google Workspace with Chrome Enterprise and you've got the most secure and mobile workplace.
To complement our technical service delivery consultants, we have a dedicated in-house change management and user enablement team to guide you through the process.
If you'd like to find out more about how we can help you to create your digital workplace, why not take a look at some of our customer success stories or talk to our Google Workspace specialists.
Article last updated June 2021
First published December 2013