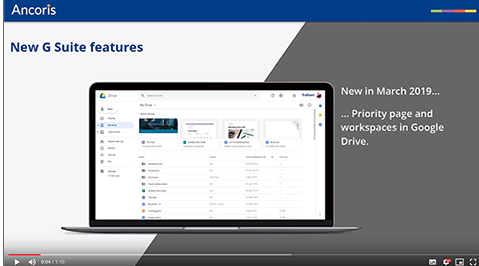 New functionality has been added to Google Drive, making use of machine learning to improve personal productivity. There are also some new features in GMail (How to set times for Tasks, Canned responses) as well as how to delete history in 1:1 conversations in Google Hangout Meet and Chat.
Priority functionality in Google Drive
A new view is available in Google Drive named Priority. Through machine learning, this page shows the documents that should be most relevant to you at any time, based on how you open documents during the day.

You can arrange documents into workspaces to access them more easily from the Priority page. Workspaces are created automatically based on related content, but you can also create your own workspaces to group files stored in various My Drive and shared drive folders.

Find out more in our How To video:
How to set times for Tasks in Gmail
Google Tasks have been improved with new features this month. As well as setting a date, you can now set a time when creating tasks, and create recurring tasks to show automatically at specific intervals.

Find out more in our How To Video:
How to use Canned Responses in Gmail
If you use the Canned Responses advanced feature of Gmail, you will see new menu options and an easier way to view your canned responses.
To create a canned response that you can insert into a message at any time:
Create a new email message and type all text to be stored as a canned response
Click on the ellipses in the bottom-right corner of the message
Choose Canned responses
Choose Save draft as template, then Save as new template
Type a name for the new canned response and click on Save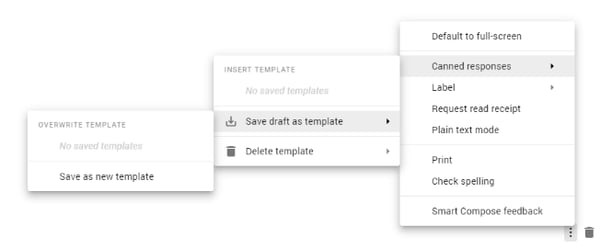 You can now insert the canned response into any email message as follows:

Click on the ellipses in the bottom-right corner of the message
Choose Canned responses
Choose the name of the canned response under the Insert Template heading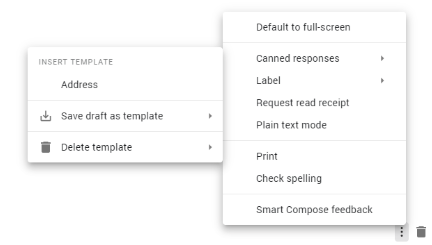 How to delete history in Google Hangouts Meet & Chat
You can now delete the conversation history of any 1:1 messages in Hangouts Chat. Note that this will remove your copy of the conversation only - the history will still be available to the other person in the conversation.

Now, when you present your screen in a Hangouts Meet meeting, your camera's video feed will remain visible. This allows other meeting participants to continue to see you while you present.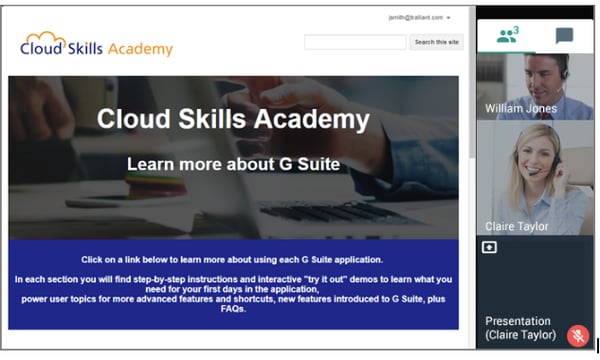 Working with a Google Workspace Premier Partner
Ancoris is only one of a handful of European Google Cloud partners with the Work Transformation Enterprise specialisation. Our deployment experts will help you make a smooth transition―for the technology and for the people using it.
A business is only as good as its people – so why not make them extraordinary? Empowering them to work better together not only unleashes their talent and creativity but makes them your competitive advantage. The modern, easy to use applications in Google Workspace make real-time collaboration a breeze. Combine Google Workspace with Chrome Enterprise and you've got the most secure and mobile workplace.
To complement our technical service delivery consultants, we have a dedicated in-house change management and user enablement team to guide you through the process.
If you'd like to find out more about how we can help you to create your digital workplace, why not take a look at some of our customer success stories or talk to our Google Workspace specialists.