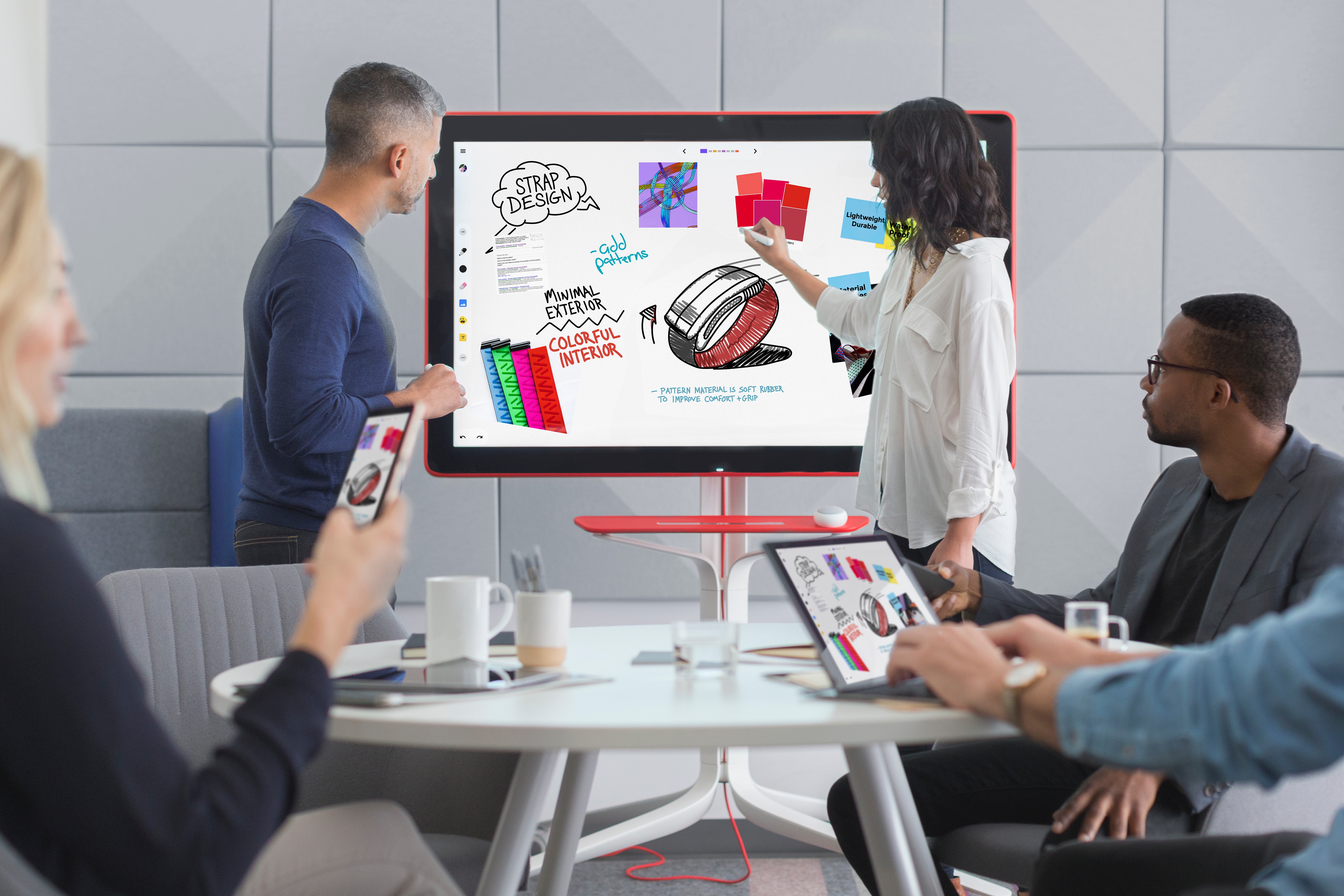 Jamboard, Google's cloud-based, collaborative whiteboard, is now available for purchase in the United Kingdom from Ancoris.
Jamboard is a digital collaborative whiteboard that enables collaboration between teams in whiteboarding sessions and is changing the way teams grow ideas together. With its built-in HD camera, speakers and wifi, you're set up to collaborate with the best sensory experience and improve thinking, creating, collaborating, and communicating. And to keep the whole team on the same page whatever your location, Jamboard comes with accompanying mobile apps for iOS and Android.
Jamboard's unique features elevate traditional brainstorming. Alongside the free forms of drawing and writing, Jamboard incorporates intelligent features like handwriting and shape recognition. A G Suite licence is required so that you can access files from Drive, use them in your brainstorms and come back to your work later. You can also bring the best of Google Cloud and the web into your creative sessions, with Google Search, Image Search and more.
You can write, draw, add sticky notes and stickers and easily erase things or move them around. And you can easily pull in Google images, maps, and youtube videos onto the Jamboard for inspiration. Since it's part of G Suite, you can add files that are part of your drive. It's all the tools you already use, but better.
Jamboard comes with a specially-designed stylus and eraser. With no batteries or pairing, they're always ready to go. Jamboard performs with 1mm accuracy and can even sense the difference between the stylus and your finger: draw with one, erase with another - just like a classic whiteboard.
How does Jamboard work with other products in G Suite?
Today, a conference call or a video meeting renders the traditional whiteboard powerless. Jamboard is designed to transcend these limitations. With just a couple of taps you can project the Jamboard into a Hangouts video meeting to put everyone on the same page, even if they aren't in the same room. True to G Suite's spirit of working together, multiple Jamboards can also collaborate in real time creating a shared immersive space for distributed teams. And, if you're on the go, you can connect directly from your mobile device from the Jamboard app to follow along or collaborate. This applies not only to your teammates, but also to clients and partners so you can extend the collaboration beyond the walls of your company.
Many of your company's best ideas start on a whiteboard and then they're wiped away at the end of the hour. If someone remembers, perhaps a dim snapshot is frozen as a photo on someone's smartphone, but most of the creative life is lost. All of your boards are saved to your drive and it's easy to return to it later or share with others. Your jams also retain their interactivity, so you can pick up right where you left off from another Jamboard or from your phone or tablet, helping you to bring your ideas to life, like never before.
What are the full specifications for Jamboard?
You can find the full specifications here
What is the price of Jamboard?
Jamboard comes with two styluses, an eraser and a wall mount, with a rolling stand available as an option. An annual management and support fee is required. Please call us for pricing information on 0345 2626747.