This month sees more useful updates to Google Sheets and Docs, with more functionality added to new Google Sites. Offline working is also now available using the new Gmail interface that was introduced last month.
Google Docs
If you are working on a Google Doc that has had many changes made to it, you can view each version of the file and restore a version you may wish to revert to. Now, you can also make a copy of an old version of a file, which is useful if you wish to compare versions side-by-side on your computer, or you need some text or an image from a previous version of a document that no longer exists in the current version.
Watch our how-to video to find out more about copying versions of documents:
Gmail
With the new Gmail Offline setting, you can read messages, compose new messages, and search, delete and label email messages using Gmail offline.
When you are offline, you can reply to messages or create new messages, which will be stored in your Outbox when you click on Send. Once a connection is available, Gmail will automatically send messages in your Outbox and download any new emails from the server to your Inbox.
Watch our how-to video to find out more about working offline in Gmail:
By default, Gmail stores the last 30 days of mail, including attachments, but this can be increased to 90 days if your domain administrator has allowed it. Spam and deleted items are not stored. To work offline in Gmail, you need the latest version of the Chrome browser, version 61 or later, and must keep one Gmail tab open in Chrome while offline.
The new Gmail interface has introduced a new feature which will "nudge" you to respond to messages you may have missed in your Inbox, or to follow up on sent messages that you haven't received a response for.

You can turn both of these nudges on or off via Settings.

Google Sheets
Google Sheets have introduced some new features for charts, which you can see in the following animation.

You can now:
Add total data labels in stacked charts, which show the sum of all content in a data set
Change the alignment of data labels, depending on the chart type you are using e.g. in a bar chart you can set them in the middle of the bar, the inside end, inside base or outside end.
Google Sites
G Suite admins will now see a Site details link in the footer of a new Google Site - when they click on this they will be able to see the site owner's email address, the date on which the site was last published, and an option to request edit access to the site.
Watch our how-to video to find out more about viewing site details in the new Google Sites:
If you are a G Suite administrator, look out for the following banner across the top of any classic Google Sites that you open. You can click on this banner to see what your site would look like in new Google Sites.

After clicking on the banner, a wizard will convert the site for you, allowing you to review the draft when complete.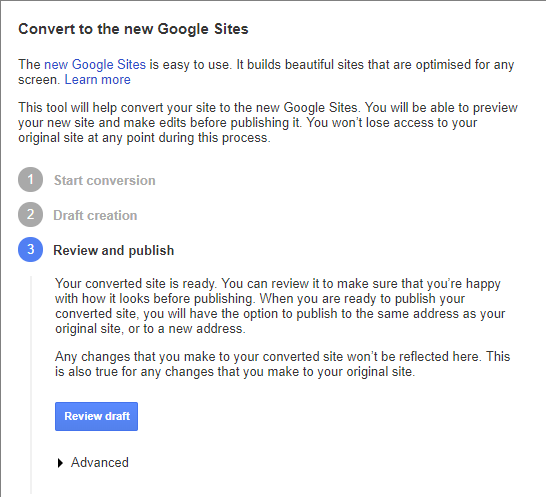 Be aware that not all functionality in classic Google Sites will be converted.
Your site will be reset to the default theme of new Google Sites but you can change the header images or theme colours once it has been converted.
Font colours and font size changes will be ignored on any site pages.
Embedded Drive folders, docs, forms, maps, calendars and groups will be copied correctly to the new Google site, but embedded charts will be lost.
Gadgets are not supported in new Google sites so will be replaced by a "broken embed" placeholder.
Any lists in your classic Google site will be converted to Google Sheets and embedded into the new site.
Announcement pages will be converted to a main page and subpages, with links between the two.
Comments, subscriptions and revision history will be lost.
As new Google sites can only have one owner, any other site owners will become editors.
Page-level permissions will be lost.
We will keep you updated of new Google Sites functionality as it is introduced, so keep reading our blogs to find out more.


For more information about G Suite licensing, pricing or general enquiries please click here to speak to one of our experts.