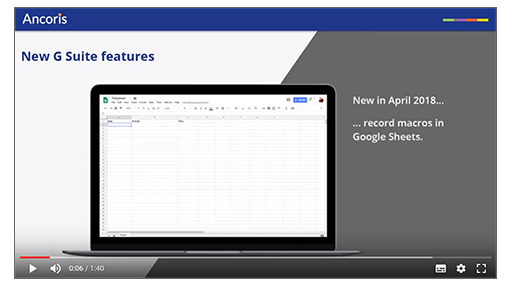 This month sees lots of new, useful features in G Suite, including macros in Google Sheets, guides and rulers in Google Slides and new IRM controls in Team Drive. There's also another update for new Google Sites.
Google Sheets
You can now record macros in Google Sheets to repeat the same actions as required in your sheet, without having to perform each step manually every time.
When you record a macro, Sheets converts the actions to Apps Script automatically - you can edit the code manually if you want to make changes, or can record a new macro if you change your mind about the steps that it performs.
Watch our how-to video to find out more about recording macros in Google Sheets:
As well as the new macro recorder, a number of other new features are also available:
You can now set page breaks where you want to them to appear in printouts of your sheet
You can set custom paper sizes for printing
You can group columns and rows of data to add subtotals to a sheet automatically
You can add checkboxes to cells, to show when a record meets a specific condition e.g. a task is complete
Watch our how-to video to find out more about this new Google Sheet functionality:
Throughout G Suite
Whenever you hover over a name or profile picture in any of the G Suite apps, you will now see an information card for that person, giving you their job title, desk location, department and contact information.
You will be able to add that person to your contacts, or quickly start a video or chat hangout with the person. You will also be able to send them an email or meeting request.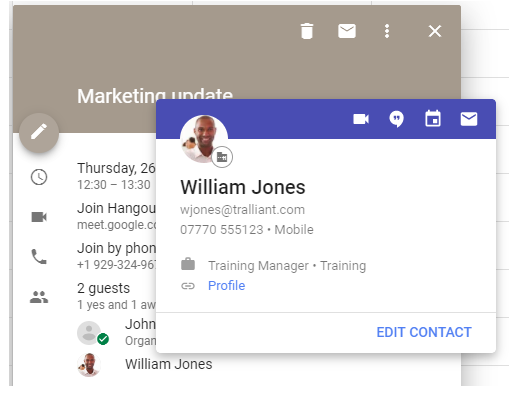 New contact cards are currently available in Google Calendar, Google+ and the new GMail interface. They will be rolled out to all other G Suite apps over the next few months.
Google Docs
You can quickly insert a slide from a Google presentation into a document, and can set a link so that any changes to the original slide will show in the document automatically.
Watch our how-to video to find out more about inserting slides into a document:

Google Slides
You can now add guides in Google Slides to set the position of items on a slide. You can also show a ruler in Google Slides to give you even more control over the placement of items, including bullet paragraphs.
Watch our how-to video to find out more guides and rulers in Google Slides:
Until now, comments could only be added to a Google Slide as a whole, making it difficult to work out the text that a comment was referring to, if the slide contained a number of different objects. You can now select any text within an object or text box on a slide, and add a comment directly.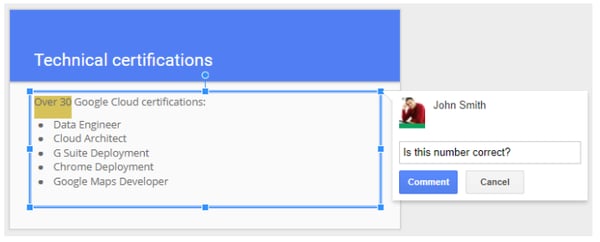 Google Sites
By default, any page you create in a new Google Site will be added to the navigation bar automatically. You can remove a page from the bar as required, but you can now also add custom links to the navigation pane, to link to other internal or external sites.
Watch our how-to video to find out more about adding custom links to the navigation page in Google Sites:
Team Drive
In Team Drive, you can now:
Limit file access privileges to Team Drives members, or only to users within your domain
Add Information Rights Management (IRM) controls to prevent users from printing, downloading and copying files within Team Drives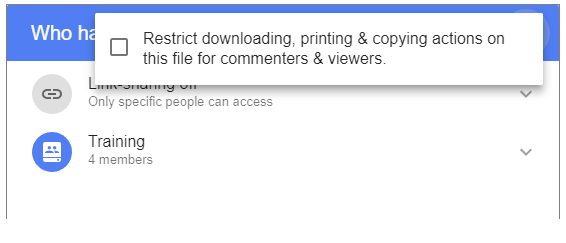 Google Hangouts Meet
Whenever you create a new meeting using Hangouts Meet, whether from the Hangouts screen or from a calendar appointment, a US dial-in number will be added to the meeting automatically that can be used to join the hangout.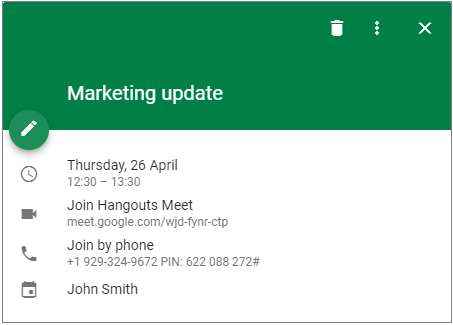 G Suite Enterprise users will see an additional list of international numbers that can be used, including numbers from the United Kingdom, Australia, Canada, France, Italy and South Africa.
And last but not least... the new Gmail interface!
Anyone can now try out the new Gmail interface, as long as it's been enabled by your G Suite administrator. The new interface has some great new features such as attachments showing directly in the Inbox, snoozing messages and quick links to perform common actions on your messages.
Watch our how-to video to find out more the new Gmail interface:
To learn more about G Suite or to speak with one of G Suite experts about licenses, training or support, please click here.